'T. Plush' appears on Morgan's outstanding catch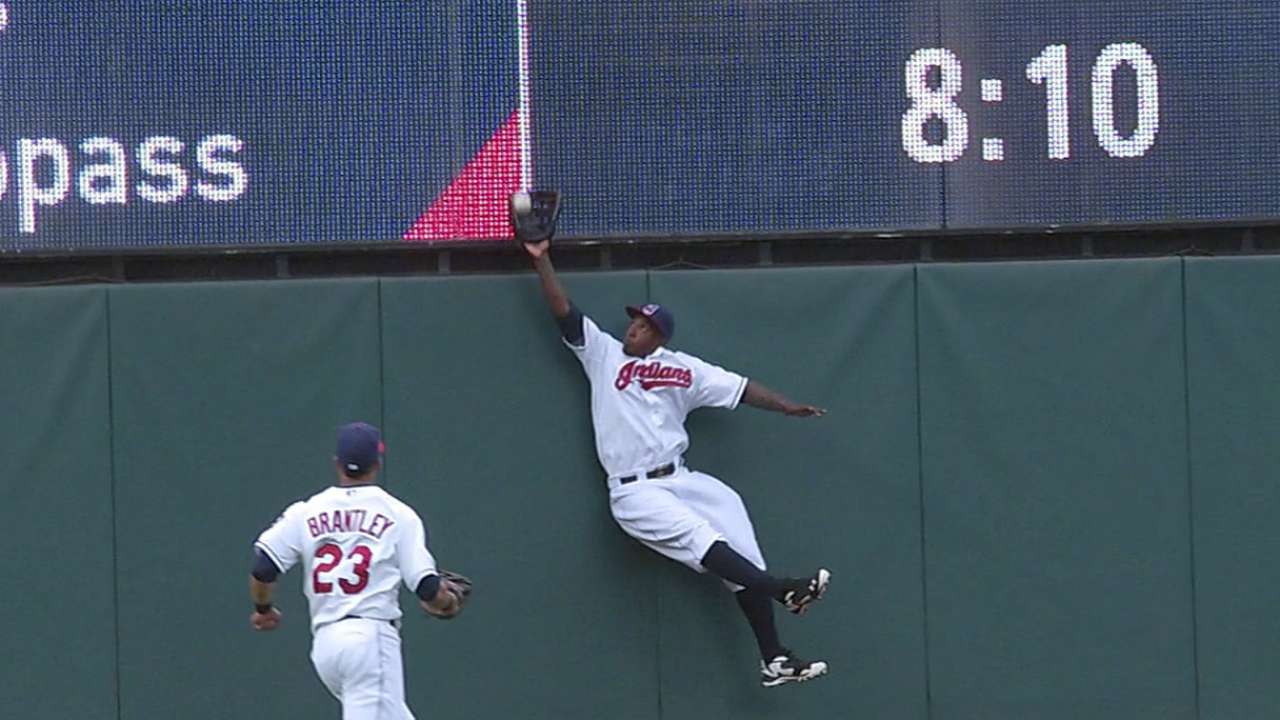 CLEVELAND -- Nyjer Morgan went up for the ball and Tony Plush came down with it on Wednesday night. One day later, the Indians center fielder's teammates were still raving about the leaping catch he made in the third inning against the Twins.
"I don't know him as Nyjer," Indians first baseman Nick Swisher said with a laugh. "I know him as T. Plush."
Early in Cleveland's 4-3 victory, Minnesota's Josmil Pinto laced a pitch from Danny Salazar to deep left-center field, where Morgan sprinted to track down the ball. The center fielder left his feet and made a fully-extended, one-handed catch while crashing into the wall. When Morgan landed on his feet, he held his glove high.
Then came the strut, some flexing and a point to Salazar. Plush was making a cameo.
"I kind of blacked out there," Morgan said. "I was thinking about acting up and throwing on a performance, but I was like, 'No, let me stay humble here.' The guy was about to come back out there."
For the fourth game in a row, Morgan was filling in for center fielder and leadoff man Michael Bourn, who was temporarily sidelined with tightness in his left hamstring. Bourn returned to the lineup for Cleveland on Thursday, pushing Morgan back into a bench role. When Bourn was on the disabled list with a hamstring injury to start the season, Morgan also held the fort down.
Through 13 games with Cleveland, Morgan has hit .297 with one double, three stolen bases, four RBIs, five runs and a .400 on-base percentage this season.
"From the minute we met him in [Spring Training], he's been the same guy," Indians manager Terry Francona said. "Enthusiastic, wanting to play. He's done a really good job for us. He's been on base 40 percent of the time. He's been good."
Swisher said Morgan's catch on Wednesday night was more than just good.
"Honest truth, when [Pinto] made contact, I thought that ball was 10 rows up," Swisher said. "I just kind of turned my head. I don't like watching other teams' homers. Next thing you know, the crowd is going crazy. I turn around and he's standing up on the wall like Spider-Man. He's got the ball in his hands. It's been great, man.
"What he's done to be able to come over here and provide a spark, especially when Bourny's been down, he's filled in tremendously. He's letting everybody know he can play this game. Not only that, but the positive attitude he has."
Jordan Bastian is a reporter for MLB.com. Read his blog, Major League Bastian, and follow him on Twitter @MLBastian. This story was not subject to the approval of Major League Baseball or its clubs.