Cabrera, teammates disappointed over missed cycle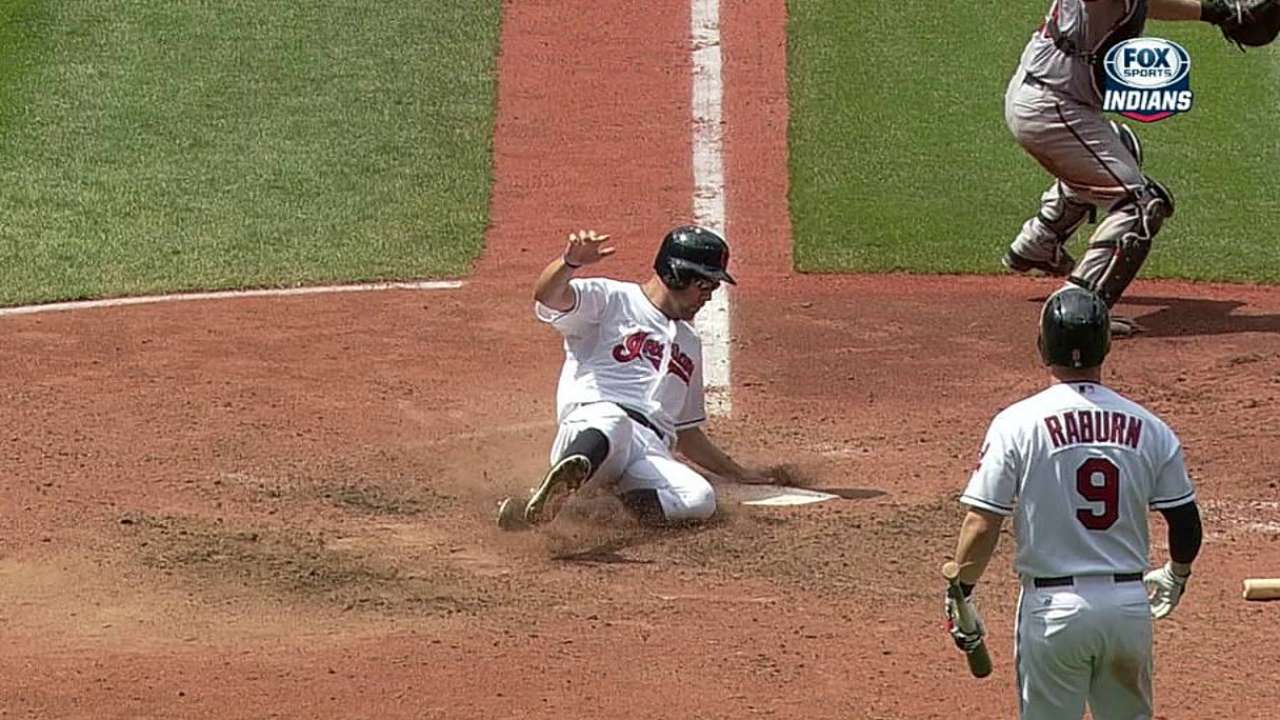 ST. PETERSBURG -- Asdrubal Cabrera reached third base in the eighth inning on Thursday, smiled wide and gave third-base coach Mike Sarbaugh a high five. Cleveland's shortstop looked into the home dugout and saw his teammates going wild.
Cabrera and everyone else in Progressive Field thought for a brief moment that he had completed a cycle in his final at-bat against the Twins. The official scorer then ruled that Cabrera doubled and then advanced to third on a relay throw to home plate to try to stop David Murphy from scoring.
Cabrera was disappointed about the ruling.
"Yeah, a little bit," he said on Friday at Tropicana Field. "It's a thing you want. Before I hit it, Murphy was the one who got a hit with two outs. I just wanted an opportunity to see. He hit a single, so I said, 'All right, I got my opportunity now, so let's see.' As soon as I hit it, I said, 'Oh, I can maybe do it.'"
The shortstop shrugged.
"There's nothing I can do," he added.
The official scorer for the Tribe's 9-4 win over the Twins on Thursday was long-time Indians reporter Sheldon Ocker, who covered the team for more than three decades for the Akron Beacon Journal. Ocker, who retired from reporting prior to this season, felt Cabrera had not advanced far enough beyond second base to warrant a clear triple.
Cabrera finished the day 4-for-5 with one single, two doubles, one home run and three RBIs.
The Indians had no plans on filing an appeal with Major League Baseball to try to retroactively net Cabrera a cycle, which has not been accomplished by a Tribe hitter since Travis Hafner did so against the Twins on Aug. 14, 2003.
"I think that's kind of one of those in-the-moment things," Indians manager Terry Francona said. "It didn't cost him a hit. My own opinion is, I'm not too sure that it isn't a triple. I'm not positive it is, either. I know where Cabby was when the second baseman had the ball, but Cabby never turned around to see if the guy was throwing home.
"He was going all the way for obvious reasons, and I don't think you can assume an out. There's been many times where that throw comes in, the guy catches it and can't get it out of his glove, and it's a triple and there's no error."
Indians first baseman Nick Swisher was upset with the ruling.
"He never broke stride. He never stopped," Swisher said. "It's home cooking, baby. It's Cleveland. You're at home. I don't get it. We were going nuts. It was like the greatest thing ever and then, all of a sudden, it was shot down."
Francona did not agree that a home team should get friendly calls by an official scorer.
"As a player, you want everything in your favor," Francona said. "And I want everything in our team's favor, of course. But that's kind of like asking an umpire, 'Hey, man, we're playing at home. Come on.' That's not going to work."
Jordan Bastian is a reporter for MLB.com. Read his blog, Major League Bastian, and follow him on Twitter @MLBastian. This story was not subject to the approval of Major League Baseball or its clubs.