Swisher remaining patient during slow start at plate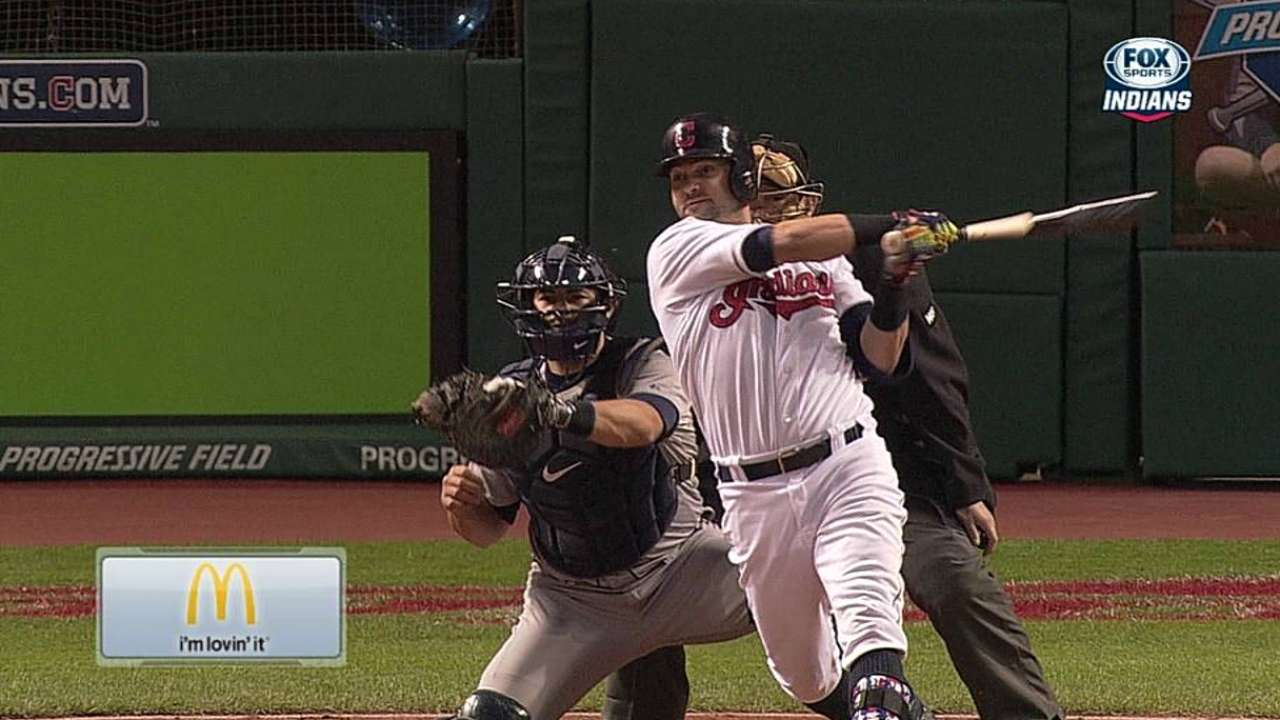 CLEVELAND -- Nick Swisher has been through this before. Just last summer, the Indians first baseman was mired in a midseason slump very similar to the one he has experienced out of the gate this season.
As Cleveland's campaign progressed in 2013, Swisher eventually warmed up in the batter's box, turning in a strong September that helped the Tribe to the postseason. Swisher believes he is beginning to regain his comfort zone this year, too.
"I feel pretty good," Swisher said. "I've been putting in a lot of work. For me, when I get into these slides, I have to hit myself out of them."
Indians manager Terry Francona has done his part in trying to light a spark in Swisher's bat, moving the switch-hitting first baseman to the seventh spot of the lineup over the past few games. Swisher spent his time as the Tribe's No. 2 hitter for the season's first eight weeks, but has only experienced offensive success in spurts.
"Hey, man, I'm here to win. If I have to hit ninth, I'll hit ninth," Swisher said. "Maybe Tito dropping me in the lineup, taking a little pressure off, just relaxing a little more, getting to be able to watch the first couple innings and seeing what pitchers are doing -- I back him 100 percent.
"He knows what he's doing. There's a reason why he's the manager here and there's a reason why we all respect the [heck] out of him."
Between April 20 and June 26 last season -- the dates on which Swisher's batting average was at a season high (.310) and low (.229), respectively -- the first baseman hit just .203 with five homers, 17 RBIs, 50 strikeouts, 24 walks and a .637 OPS in 49 games. Through 44 games this season, he has hit .204 with three homers, 17 RBIs, 42 strikeouts, 25 walks and a .620 OPS for Cleveland.
Over his final 22 games in September last season, Swisher hit at a .294 clip with seven homers, 17 RBIs and a .968 OPS in helping the Indians clinch the American League's top Wild Card. Swisher said he can reflect on that experience while tackling the current situation.
"It hasn't been the start that I wanted it to [be]," he said. "But we have 75 percent of the season left. For me, [hitting seventh] is not really a spot that I've really been in before, so I'm going to have to fight and scrap and battle myself out."
Jordan Bastian is a reporter for MLB.com. Read his blog, Major League Bastian, and follow him on Twitter @MLBastian. This story was not subject to the approval of Major League Baseball or its clubs.