Bourn again able to utilize speed atop lineup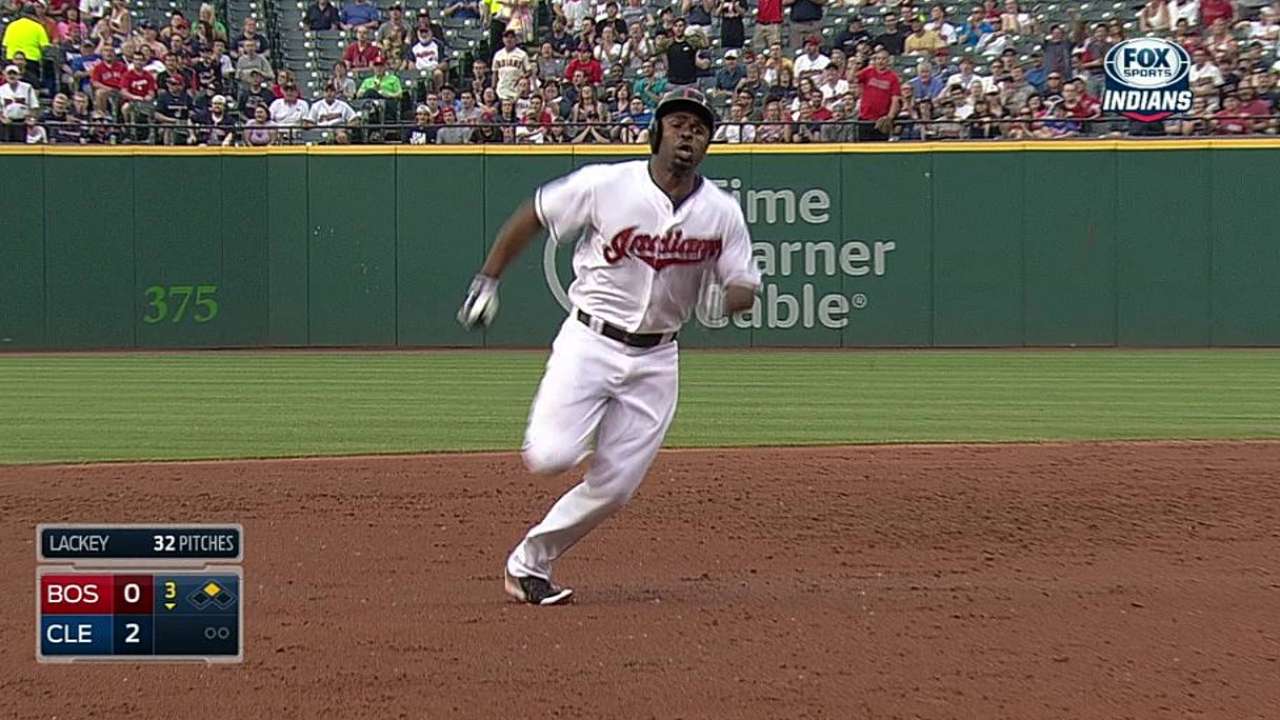 CLEVELAND -- Center fielder Michael Bourn looks to finally have his legs back under him, making him even more of a weapon for the Indians.
On Sunday, Bourn electrified Progressive Field by delivering the decisive blow -- a walk-off two-run blast in the ninth -- that completed the Tribe's sweep of the Rockies. The center fielder followed that up with a two-hit performance in Monday's win over the Red Sox that included a triple, a steal and two runs.
For Bourn, the recent success has had as much to do with feeling comfortable on the basepaths as anything else.
"Just taking an opportunity when it's there," he said. "That's the main thing, not try to miss out on too many opportunities. If an opportunity exists there you got to try to be aggressive."
The Tribe's resident leadoff hitter has been a stabilizing force atop the order for much of the season. Since returning from his second hamstring injury April 29, Bourn had hit .313 with two homers, three triples and three stolen bases entering Tuesday.
"It's big for us," Indians outfielder David Murphy said of Bourn's strong play of late. "I feel like the leadoff man in any lineup is big, but when he's going for us, it kind of gets everyone going, swinging the way he's swinging it right now, using his speed. Keeps other teams on their toes. It creates offense, is the bottom line."
Bourn has stolen at least 41 bases in five of his last six seasons. And although he has only five swipes into early June, the Indians only expect Bourn's comfort on the basepaths to improve as he becomes further removed from offseason hamstring surgery.
"As he grows into this season," Tribe manager Terry Francona said, "I think you're going to see more and more of this. I think that takes patience, but I think that's the best way to go about it."
Alec Shirkey is an associate reporter for MLB.com. This story was not subject to the approval of Major League Baseball or its clubs.