Swisher progressing; Santana expected back Friday
Tribe outfielder resumes baseball activities, could go on rehab stint soon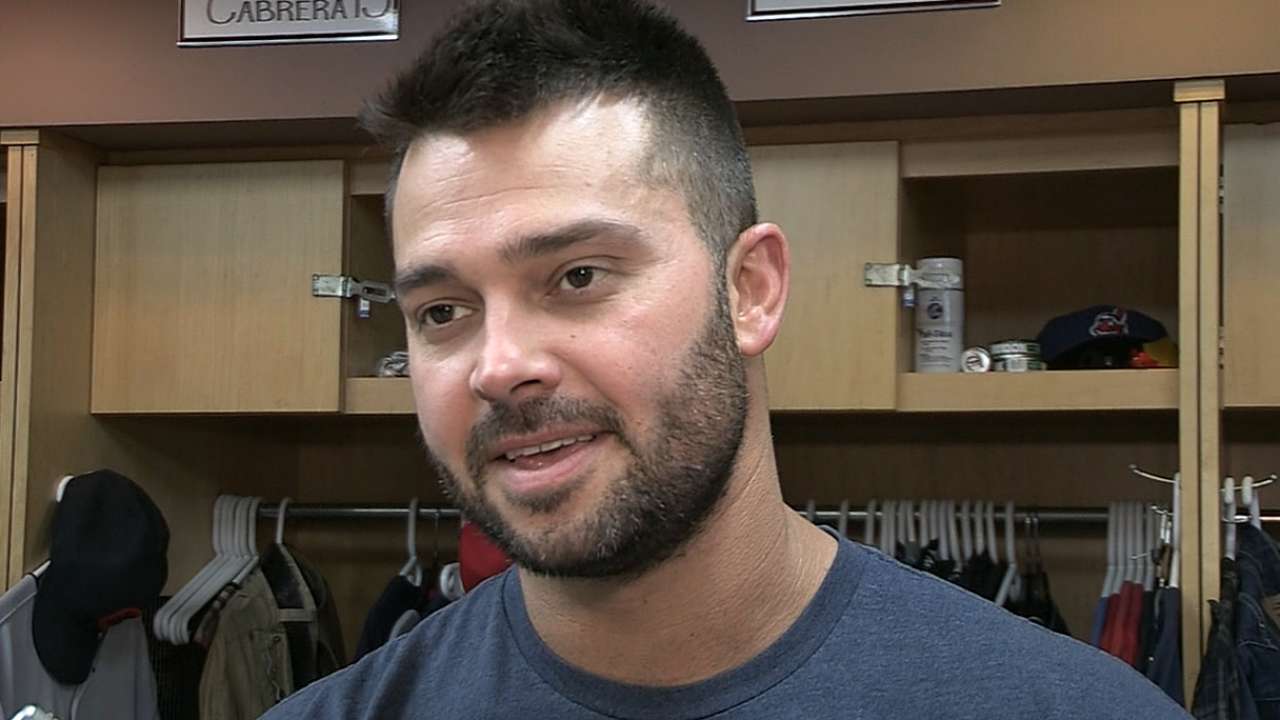 CLEVELAND -- The Tribe's most notable pair of injured hitters continue to make progress on their comeback trails.
First baseman Nick Swisher and third baseman Carlos Santana both hit the disabled list May 27 -- the former due to a knee injury, the latter thanks to concussion-like symptoms. Up until Monday, the entirety of Swisher's rehab work had been done in the pool, but he has since graduated to "land-based" activities and believes rehab games could be on the horizon.
"As the years progress, there might be some little nagging things that you really have to pay attention to," Swisher said. "Last year it was my shoulder. We dealt with that. This time it just happens to be my knee, and [I'll] just deal with that, get on the right programs, make sure everything's strengthened up."
Indians manager Terry Francona emphasized that he did not want to rush the veteran first baseman back, but he also noted that the team will be flexible about when it plans on upgrading Swisher's status.
"I think he's pretty upbeat about where he's at," Francona said. "[I said], 'Let's not have an artificial timetable. We want you back when you can come back and play and not be limping.' And he understands that. So at some point I'm thinking on this next road trip, he'll probably break away from us, go play a couple games and we'll see how he's doing."
As for Santana, Francona told reporters Tuesday the third baseman/backup catcher took part in a normal pregame routine, including fielding work and time spent in the batting cages. Francona said he expects the 28-year-old Santana, who has doubled as Cleveland's backup catcher, to be ready for activation by Friday.
With Swisher still on the DL then and a third-string catcher already on the roster in George Kottaras, Santana could see the starting lineup early and often without having to spend much time behind the plate.
"There's some logical ways to get him in the lineup where we can play everybody," Francona said. "When Swish comes back, we're going to have to try to figure some things out, and part of that will be Carlos' role. And by that time, I'll have an opportunity to sit [and talk things over] with Carlos at length when he's not rehabbing."
First baseman Jesus Aguilar, who has played sparingly in Swisher's absence, would seem the most vulnerable to be optioned down to Triple-A Columbus when Santana returns.
Alec Shirkey is an associate reporter for MLB.com. This story was not subject to the approval of Major League Baseball or its clubs.