Hagadone optioned, reliever Crockett recalled
Francona says struggling lefty has 'special stuff,' has to work things out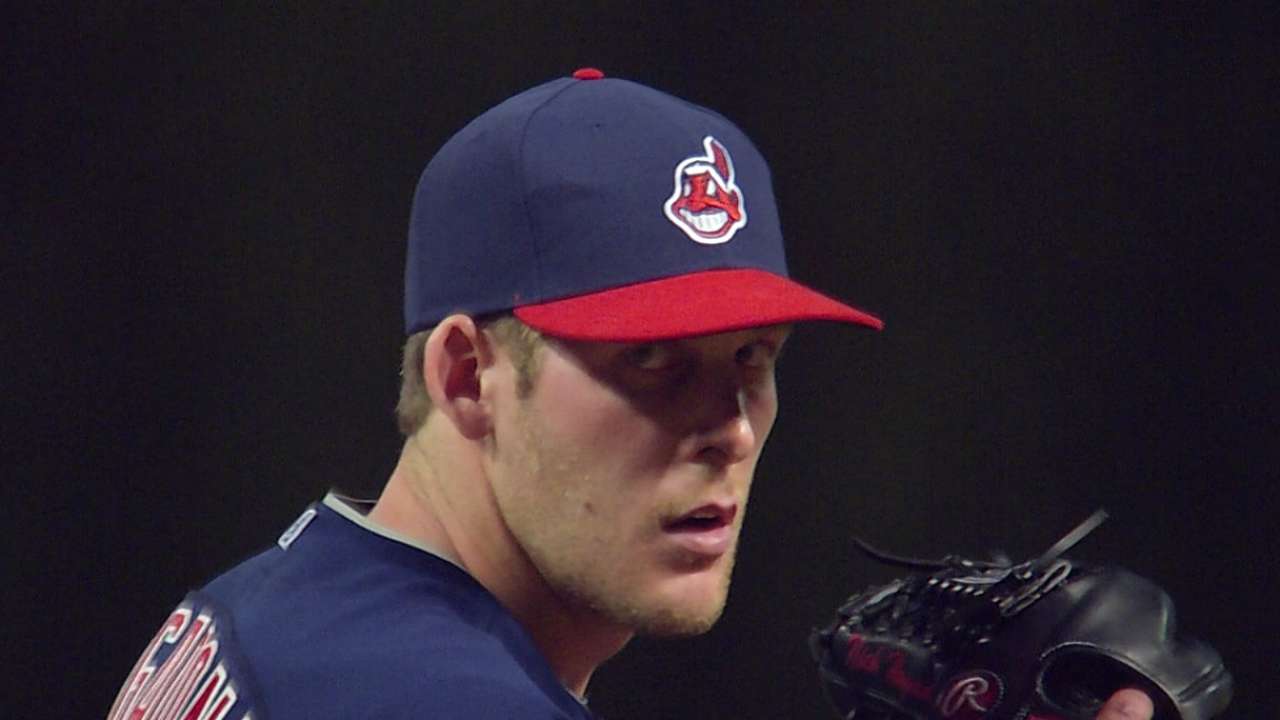 BOSTON -- Nick Hagadone sounded like he was searching for answers in the immediate aftermath of Thursday's loss to the Red Sox. On Friday, the Indians optioned the struggling reliever to Triple-A Columbus to help him sort through his recent issues on the mound.
Rookie lefty Kyle Crockett was recalled from Triple-A to take Hagadone's spot in the Cleveland bullpen.
"In there, is a good pitcher and a guy that has pretty special stuff," Indians manager Terry Francona said of Hagadone. "We desperately want to tap into that. ... This is not cutting the cord. This is not giving up. When Hags is in our bullpen pitching like he can pitch, we're going to be a better team."
In Thursday's 5-2 loss to Boston, Hagadone was called upon with two outs, a runner on third base and Cleveland trailing by just one run in the sixth. The lefty issued a four-pitch walk to Jackie Bradley Jr. The Red Sox center fielder promptly stole second base and then came around to score on a two-run double by Brock Holt.
After the loss, Hagadone was asked if there was something in particular he needed to work on fixing.
"If I had that answer, I wouldn't be pitching like this," Hagdone said. "I don't know."
Cleveland promoted the 28-year-old Hagadone from Triple-A earlier this month after he posted a 2.25 ERA with 22 strikeouts against only three walks in 12 innings in May. In his first two outings for Cleveland, the left-hander struck out four, allowed only one hit and walked none in two impressive innings.
In his past three appearances, though, Hagadone was charged with two runs on three hits (one home run) with two walks, no strikeouts and only one out recorded. That rapid unraveling pushed Hagadone's ERA to 7.71 in five games.
"We want it to be a situation where, when he comes to the big leagues, he can help us win games," Francona said. "He was on a roll in Triple-A and his first couple games here he really helped us. Then, it seemed to be going the other way, even in his mind. So, we want to try to help him get over some hurdles, whether it's anxiety or however you want to put it."
Crockett, 23, rejoins the Indians for his second stint in the big leagues. The club's No. 15 prospect was originally promoted from Double-A Akron on May 16, becoming the first player from any team's 2013 Draft class to reach the Majors. In 4 1/3 innings for the Indians, Crockett posted a 2.08 ERA with a .154 opponents' batting average.
Since being optioned to Triple-A on May 22, Crockett has allowed one earned run with six strikeouts and no walks in 8 2/3 innings for Columbus. In 21 appearances combined between Double-A and Triple-A this season, the left-hander has a 0.74 ERA with 23 strikeouts, three walks and a .172 opponents' average in 24 1/3 innings.
"I think [Crockett] is really beyond his years in maturity level," Francona said. "He kind of is what he is and he can do it at the Double-A level, Triple-A level of Major League level, because the game doesn't speed up on him."
Jordan Bastian is a reporter for MLB.com. Read his blog, Major League Bastian, and follow him on Twitter @MLBastian. This story was not subject to the approval of Major League Baseball or its clubs.