Tribe seeking consistent effort level from Masterson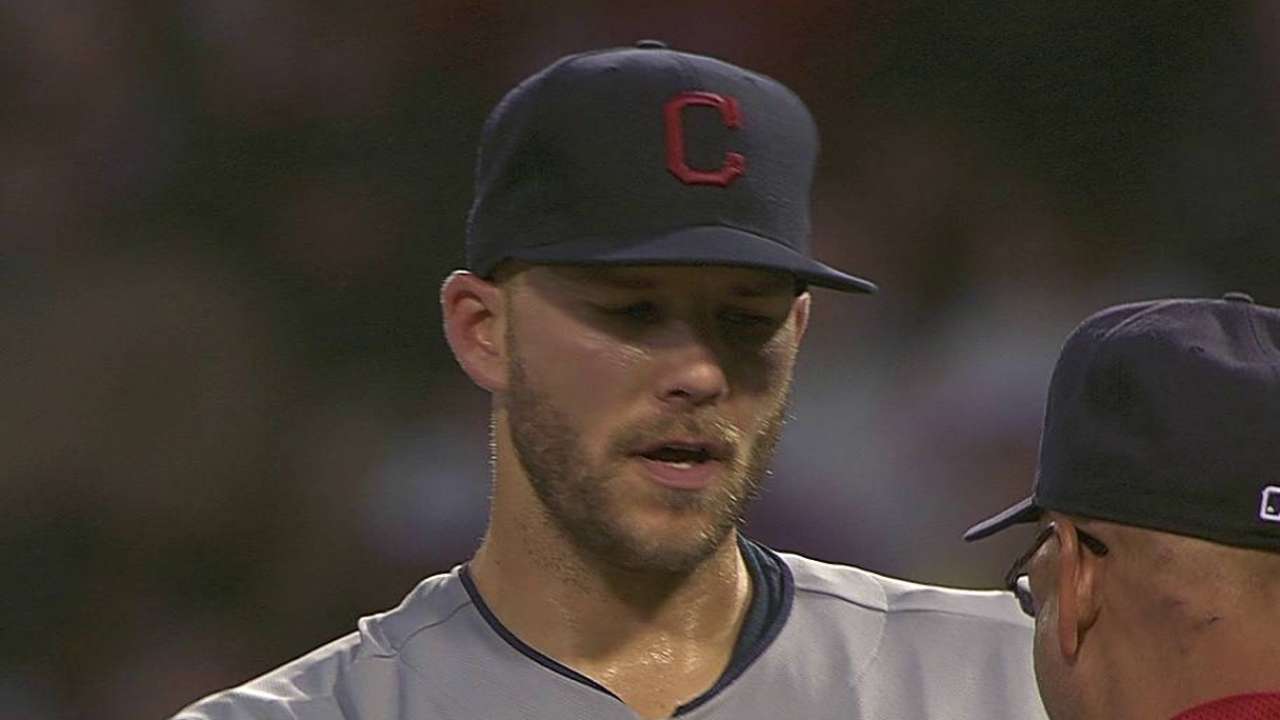 BOSTON -- Indians pitching coach Mickey Callaway does not plan on poring over video with starter Justin Masterson in the days leading up to his next start. Right now, Callaway wants to focus on the basics in the wake of the sinkerballer's rough performance on Friday.
Prior to Saturday's game against the Red Sox, Callaway was spotted in the visitors' dugout at Fenway Park, going over things with Masterson. After watching the right-hander's poor two-plus-inning showing in Friday's 10-3 loss to Boston, the pitching coach believes the issue was inconsistent effort level.
"The most glaring thing," Callaway said, "was I just thought his effort level was fluctuating so much that it was hard to repeat [his delivery]. He felt good his previous two starts. He was kind of repeating pretty good. [On Friday], for whatever reason, when he walked that first guy, it seemed like he just started battling himself.
"It was like, 'OK, I'm going to let up to throw strikes here,' and that didn't work. Then, 'OK, I'm going to try to get a little more to throw strikes,' and that didn't work. He never took a consistent approach to try to throw the ball over the plate. I think that's what hurt him the most."
Masterson threw 59 pitches, marking the fewest he logged in a start not cut short by weather or injury. The righty walked four batters, allowed three hits, struck out none and ended with more balls (31) than strikes (28).
That showing came after Masterson spun a 1.72 ERA with a .214 opponents' batting average in his previous three starts combined. For the season, the Tribe's rotation leader is 4-5 with a 5.05 ERA in 15 outings.
"Obviously we want to get back to what he was doing the starts previous to the last one," Callaway said. "We're going to try to talk about just having a little more consistent effort level and a little more energy in his delivery. A little more tempo, a little more energy and a little more intent to let the ball go and trust that it's going to happen."
Jordan Bastian is a reporter for MLB.com. Read his blog, Major League Bastian, and follow him on Twitter @MLBastian. This story was not subject to the approval of Major League Baseball or its clubs.