Raburn, Santana turn pivotal double plays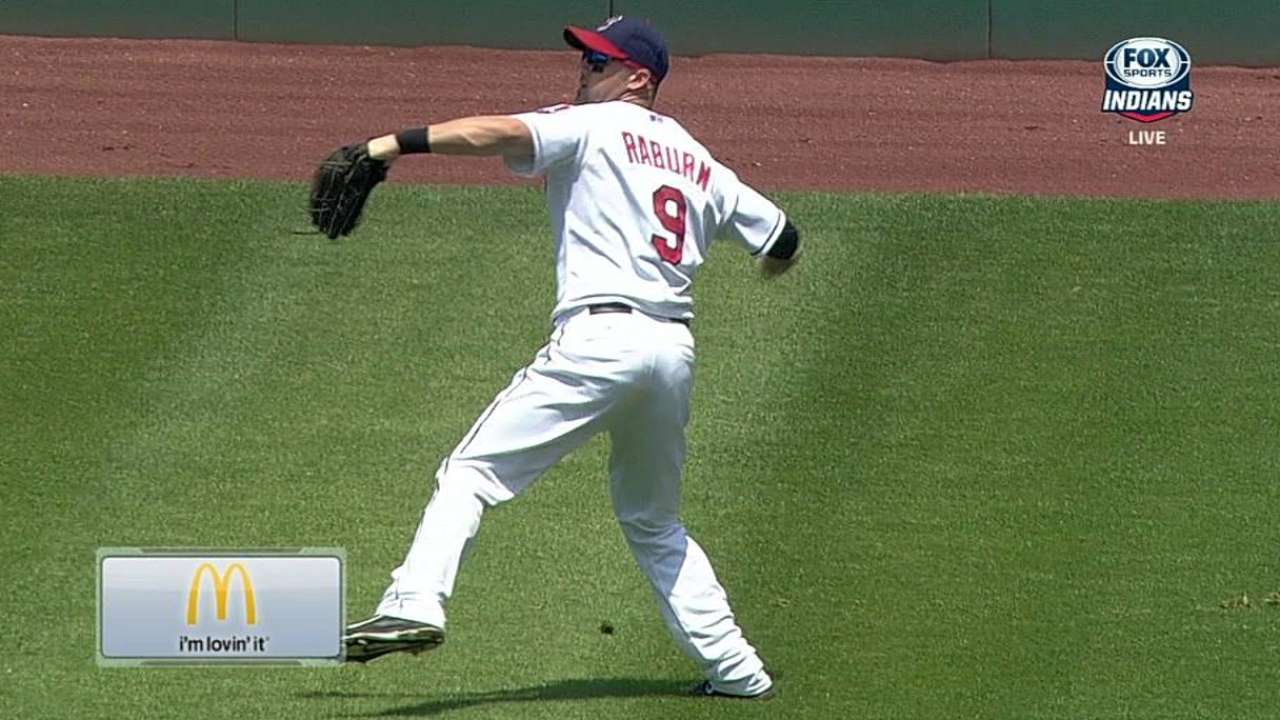 CLEVELAND -- The Tribe's inconsistency in the field has been a glaring weakness this season, but the team showed plenty of smooth glovework during Thursday's 5-3 win in 10 innings.
Entering its third tilt with the Angels, Cleveland had committed a Major-League worst 64 errors this season to go along with a .977 fielding percentage. But two key double plays -- one turned by right fielder Ryan Raburn, the other by first baseman Carlos Santana -- kept the Indians within striking distance and helped propel the effectively wild Justin Masterson to complete seven innings of one-run baseball.
"They were great," Masterson said. "My friends did a really good job out there. Raburn getting the double play, we had quite a few double plays at much-needed times. It was just a battle the whole time for everybody."
In the fourth inning, Masterson had allowed two men to reach base and was working with no outs in a tie game. Luckily for him, Raburn was there to erase the frame's previous mistakes, as he skillfully grabbed a Howie Kendrick screamer in right field, regained his balance and then gunned down Josh Hamilton at second for the uncommon 9-6 double play.
"The line drive to right ... that Raburn caught that doubled up Hamilton was huge," Tribe manager Terry Francona said.
One inning later, third baseman David Freese again put the pressure on with a leadoff single. This time it was Santana who picked up his starting pitcher, snagging a sharply hit ball from Hank Conger and throwing it ahead of Freese at second to turn two.
"It was great," Santana said. "The team played good defense. It was very important for winning the game. With good defense, we had an opportunity."
Alec Shirkey is an associate reporter for MLB.com. This story was not subject to the approval of Major League Baseball or its clubs.