First base now Santana's primary position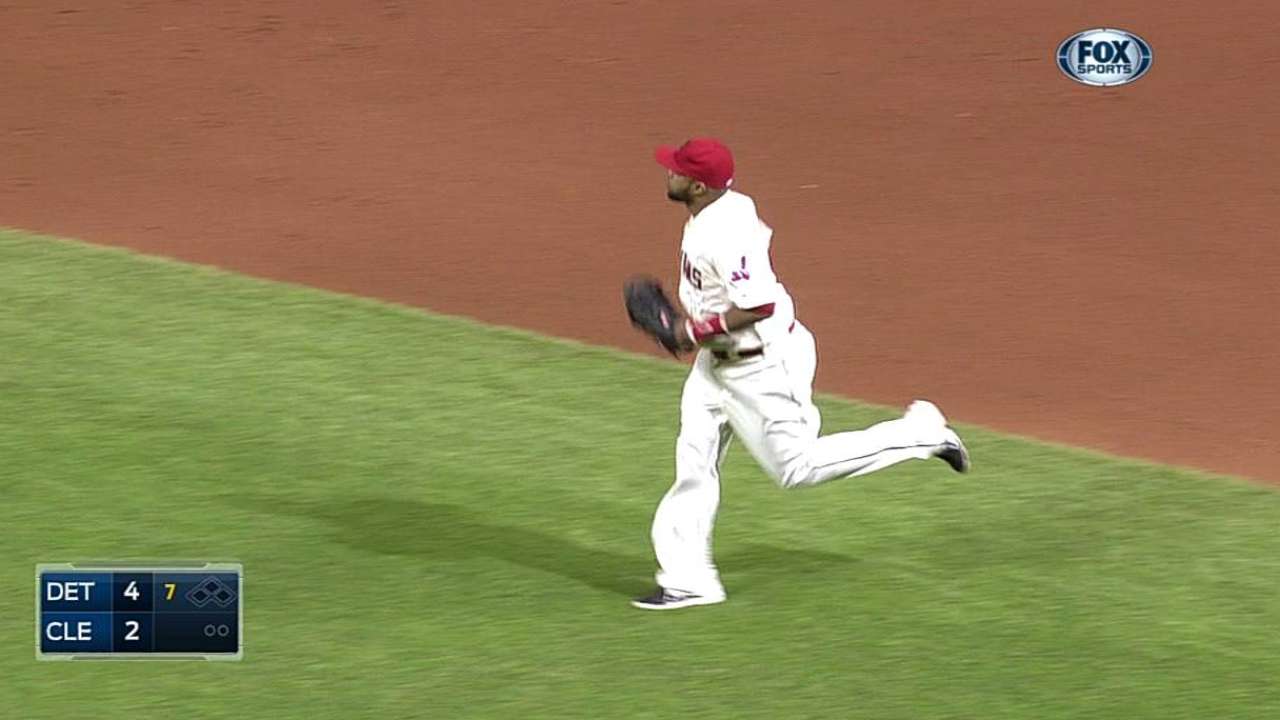 CLEVELAND -- Carlos Santana opened this season as the cleanup hitter and primary third baseman for the Indians. Following a prolonged slump, Santana has hit his way back into the middle of Cleveland's order. But his place on the field has changed.
Indians manager Terry Francona, who dropped Santana lower in the lineup midway through May, has enjoyed being able to move the hot-hitting corner infielder back to the heart of the order. Lately, though, Francona has scrapped plans for using Santana at third, putting him at first base on a regular basis.
"To be honest with you, we're trying to put the best team out there that we can," Francona said prior to Sunday's game. "Lonnie [Chisenhall], I don't think there's anybody that would argue, deserves to be playing third base. So, we don't do the positions necessarily by what guys want to do. Lonnie has done a heck of a job.
"Carlos worked really hard [at third base], but what's kind of cool is that I think all the work he put in at third, I think it's made him a better first baseman. He's more active. He's more agile. Again, we'll see where it goes."
Over the past 19 games, Santana has started at first base 16 times, served as the designated hitter twice and caught once. That stretch covers the period since Santana last manned third base on May 22. Prior to the recent period away from the hot corner, Santana started at third base in 26 of his first 47 games this season. He played first just twice during that span.
Cleveland has not had to use Santana as the backup catcher, with George Kottaras now filling that role on the roster. Chisenhall (batting .363, entering Sunday) has grabbed the starting job at third and Nick Swisher has worked mostly as a DH since coming off the disabled list on June 12.
"I know we have an obligation to write the lineup out," Francona said, "but [players] kind of do by the way they play."
Along those lines, Francona has been thrilled with Santana's recent work in the batter's box. Entering Sunday, the switch-hitter was hitting just .201 through 65 games, but he was batting .338 with six home runs, 16 RBIs and 16 walks in his past 19 games. Santana headed into Sunday's action ranked second in the American League with a 1.114 OPS in June.
"For us to probably be the offensive team that we aspire to be," Francona said, "I think he needs to be [in the middle of the lineup]. You can try to lessen the burden on those guys when they're struggling -- I think sometimes you need to. But, when [push comes to shove], we need to have Carlos probably in the middle."
Jordan Bastian is a reporter for MLB.com. Read his blog, Major League Bastian, and follow him on Twitter @MLBastian. This story was not subject to the approval of Major League Baseball or its clubs.