Santana has new life after strong June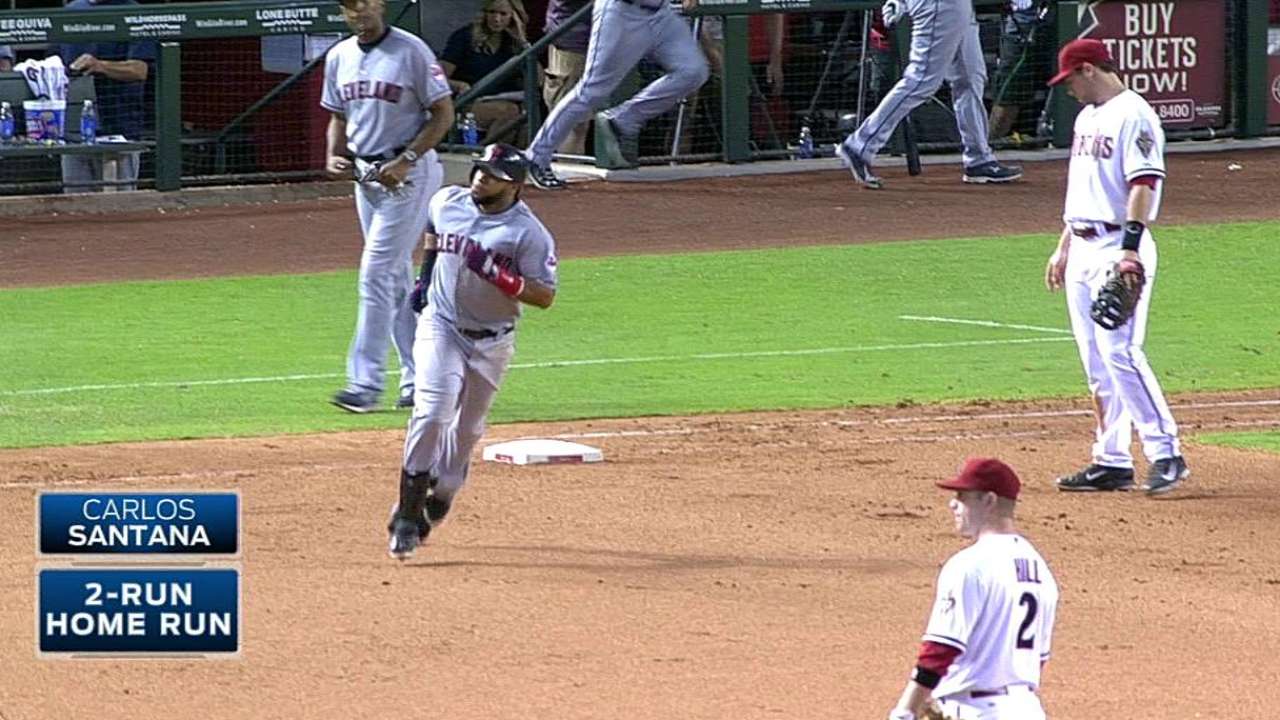 LOS ANGELES -- Carlos Santana was not in the starting lineup for the Indians for Tuesday night's game against the Dodgers. One month ago, it might have been a mental break. Now, it is simply a scheduled day off for one of baseball's hottest hitters.
Leaning against a wall outside the visitors' clubhouse at Dodger Stadium, Santana said he is looking forward to what July and the rest of the season will bring. The first baseman turned in a strong showing in June to pull himself out of a two-month slump, reclaiming his place in the heart of Cleveland's batting order.
"For me, it was great. I had a great June," Santana said. "This is a new month and I need to keep working the same way and doing my same approach. I know the team needs me."
Entering Tuesday, the switch-hitting Santana was sporting a .205/.357/.390 slash line through 72 games this season, but the overall numbers are misleading at the moment. In June, Santana hit .308 with six home runs, 15 RBIs and the sixth-highest OPS (1.015) in the American League.
That spike in production came after Santana hit .151 (.593 OPS) in April and .169 (.668 OPS) in May. Santana caught fire after his season average dipped to .146 on May 21. Since then, he has hit .311 with seven homers, 13 extra-base hits, 15 runs, 19 walks and 19 RBIs in 26 games. His 1.062 OPS in that span ranked second to only the Angels' Mike Trout (1.236) in the Majors.
"The only thing I changed was my mental approach," Santana said. "I've been thinking very positive. I know what kind of player I can be."
Santana returned to Cleveland's lineup on June 6 after missing nine games while dealing with a mild concussion. While the situation was not ideal, Indians manager Terry Francona believes the time off helped.
"The fresh start after he got the concussion," Francona said, "I thought that allowed him to kind of gather himself. Sometimes, you get so overwhelmed. You're trying something new every day and it's just beating you up. I thought he was able to take a step back. I thought that was good for him."
Santana feels he will ultimately be better because of all the issues he dealt with this year.
"If I have a bad situation or a struggling moment," Santana said, "I am getting more experience in my life and career. I wouldn't want any player to go through that, but I'm learning from it and getting more experience. Baseball isn't easy. Nothing is easy."
Jordan Bastian is a reporter for MLB.com. Read his blog, Major League Bastian, and follow him on Twitter @MLBastian. This story was not subject to the approval of Major League Baseball or its clubs.