Control, not injury, seems to be Masterson's issue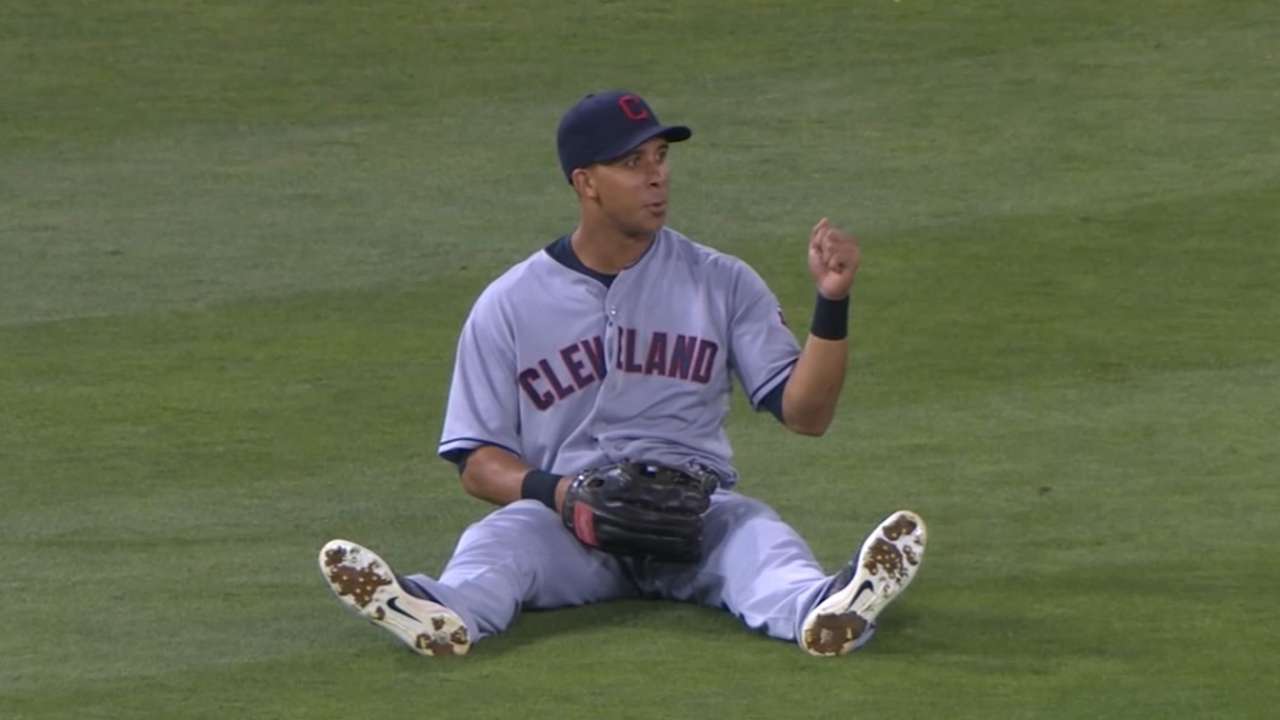 LOS ANGELES -- The results on the mound have been rough of late for sinkerballer Justin Masterson, but the Indians are convinced that the starter is healthy.
On Tuesday, Masterson logged 85 pitches in only three innings of work, marking the second straight outing that the right-hander was unable to work at least five frames. Masterson had two extra days between his past two starts to rest a sore right knee, but Cleveland does not believe the issue is serious.
"I think he actually feels OK," Indians manager Terry Francona said on Wednesday. "I think it's some command that he's going to have to fight through. I think he physically feels pretty good. ... I think he's open to working with [pitching coach Mickey Callaway] a lot. That's good. We'll fight through it together."
On the season, Masterson has gone 4-5 with a 5.16 ERA in 18 starts. Among the 10 pitchers who have logged at least 18 starts this season, Masterson has turned in the fewest innings (96). The sinkerballer has also worked with the second-highest total of baserunners (163) in the American League, trailing only Detroit righty Justin Verlander (168 in 110 2/3 innings).
Against the Dodgers, Masterson allowed three runs on seven hits and ended with seven strikeouts against three walks. In his past two starts, the right-hander has yielded a combined eight runs on 14 hits with 13 strikeouts and seven walks in seven innings. In that span, Masterson has thrown 176 pitches, including 97 strikes.
Masterson has given up 14 runs on 21 hits with 14 walks in 16 innings across his past four starts.
"It's command," Francona said. "There's times right now where he's throwing it and hoping it'll have some natural movement that'll get him out of a jam, as opposed to commanding. I think some of that is confidence. Some of that is repeating. Because, when he gets on a roll, we've all seen [how good he can be]."
Following Tuesday's outing, which came during a 10-3 win for Cleveland, Masterson clung to the positives.
"We weren't crazy out of the zone," Masterson said. "We were a lot better in the zone. The slider was good. Sinkers were pretty good and the four-seamer was there. I was pleasantly surprised. ... I was pretty happy. I was working hard through those first few innings, making stuff happen. Hey, I like where we're moving."
Jordan Bastian is a reporter for MLB.com. Read his blog, Major League Bastian, and follow him on Twitter @MLBastian. This story was not subject to the approval of Major League Baseball or its clubs.