Holt makes defensive MLB debut with Indians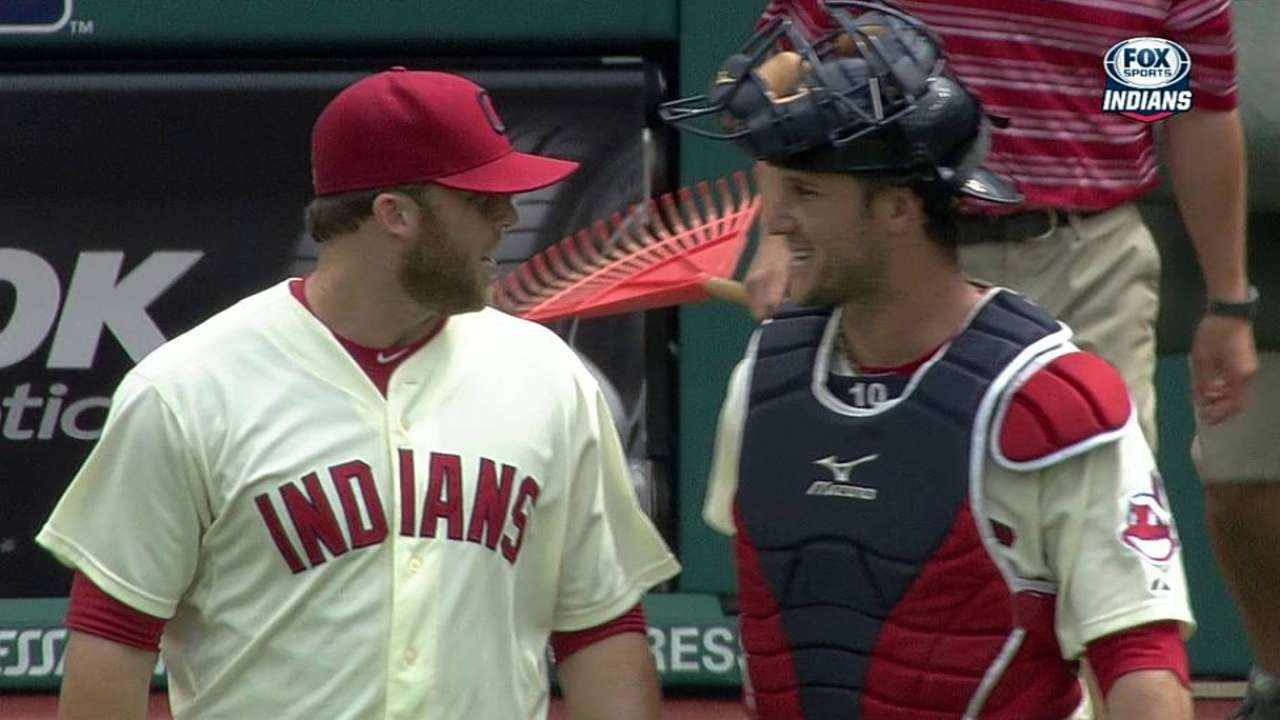 CLEVELAND -- Rookie Tyler Holt had no clue why his new locker in the Indians' clubhouse had been labeled "T-Hush."
"You ask the guys around the clubhouse. I have no idea," Holt said.
Clearly the legend of Nyjer Morgan's alter ego, "T-Plush," hasn't worked its way down to the Minor Leagues.
Holt made his Major League debut in Sunday's 4-1 win over the Royals -- the same day he was called up from Triple-A Columbus. The outfielder recorded the game's final out in right field as a ninth-inning defensive replacement. But the low-leverage situation hardly registered because of his sleep deprivation.
"I'm kind of glad I wasn't as awake as I should have been. [I only got] an hour of sleep, so it had kind of taken the edge off itself," Holt said. "I got all the adrenaline out."
With Michael Bourn hitting the 15-day disabled list with another hamstring injury, Holt -- a former 10th-round pick of in the 2010 First-Year Player Draft -- got his call to Cleveland. He had split his season between Columbus, where he hit .302 with 38 runs scored in 37 games, and Double-A Akron. But now Holt has chance to make his mark at the highest level.
"He can play all three outfield positions and go out there and play center also," Indians manager Terry Francona said. "He swings at strikes. He's done really everything the organization's asked him to do, moved from level to level and done it in a professional way. It's nice to be able to reward guys that do it right."
In Bourn's absence, Michael Brantley is expected to shift over to center field while Mike Aviles and Ryan Raburn see time in left. That leaves Holt, who has 21 steals in 24 attempts this season, as a versatile bench option with plenty of speed.
"I think he can do a little bit of everything, and he's pretty reliable," Francona said. "For a young player, that's a big compliment."
Holt didn't get his first at-bat, but he at least gets a nice souvenir in the ball he caught to seal the Tribe's win.
"It's been just amazing. These guys have been good guys and making the transition easier," Holt said. "And winning today wasn't so bad, either."
Jordan Bastian is a reporter for MLB.com. Read his blog, Major League Bastian, and follow him on Twitter @MLBastian. Alec Shirkey is an associate reporter for MLB.com. This story was not subject to the approval of Major League Baseball or its clubs.