Indians counting on Masterson in second half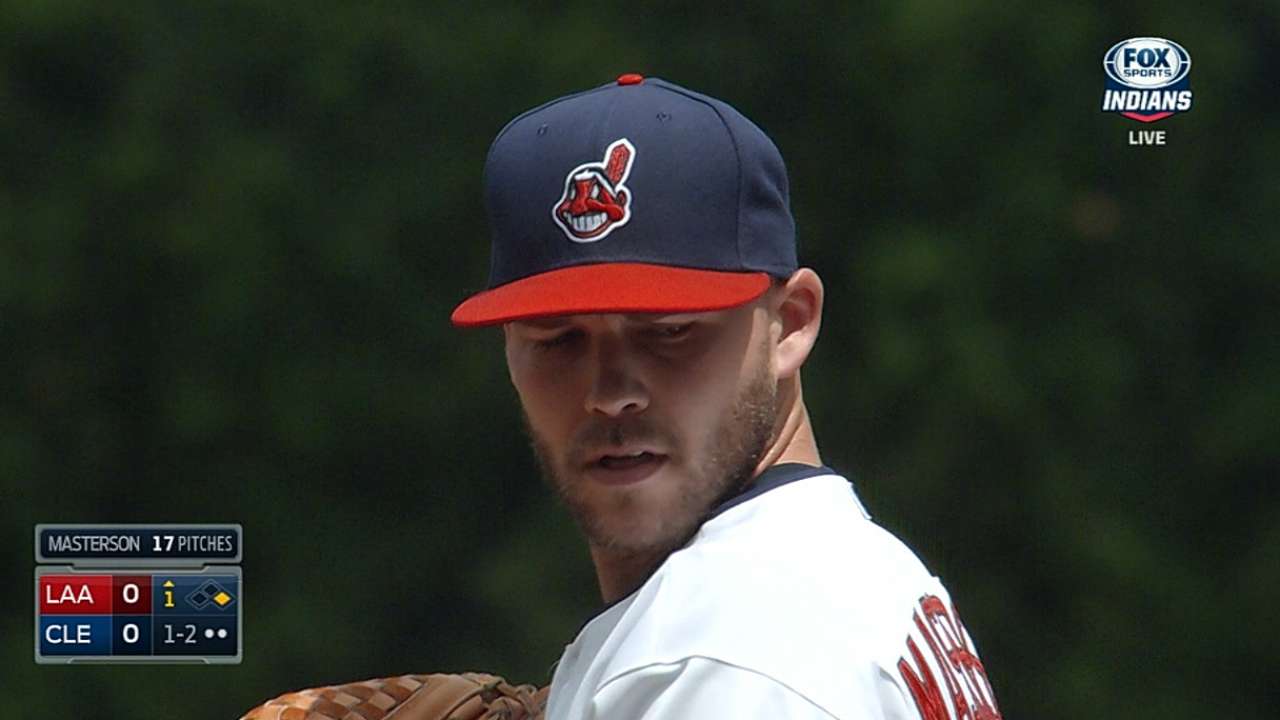 CLEVELAND -- The Indians' goal is to give Justin Masterson the next two weeks to not only rest his inflamed right knee, but to tackle the mechanical inconsistencies that have plagued him this season. Pitching coach Mickey Callaway said the hope is to have the right-hander back as soon as he is eligible to be activated from the disabled list.
"Hopefully, 15 days from now he'll be pitching for us," Callaway said on Wednesday afternoon. "He's going to be one of our keys to being a good team. If he's on the shelf, we're going to be struggling. We need him."
Cleveland placed the struggling Masterson on the 15-day DL on Tuesday, meaning the sinkerballer will be sidelined until at least July 23. He threw 25 fastballs off a mound on Wednesday and will continue to do light bullpen sessions on an every-other-day basis leading up to the four-day All-Star break, which begins Monday.
Callaway noted that Masterson would likely play catch once over the break to keep his arm loose.
"We're trying to keep stress off right now, but still work," Callaway said.
On the season, Masterson has gone 4-6 with a career-worst 5.51 ERA in 19 starts. In a loss to the Yankees on Monday, the righty gave up five runs on six hits in only two innings, marking his third consecutive start consisting of no more than four frames. In that three-start span, Masterson has posted a 13.00 ERA.
Masterson's woes have been most glaring over his last 11 starts, during which he has posted a 7.16 ERA, dating back to May 13. Callaway said the knee injury -- believed to be an issue off and on for most of this season -- was taking a toll on the pitcher's delivery mechanics and possibly resulting in diminished pitch speed.
"Obviously, [the knee was] pretty bad," Callaway said. "He went from one of the better guys to one of the worst. I think it was affecting the way he lands and is able to throw against his front side. That was probably the [velocity] difference we've been seeing.
"He wanted to pitch, obviously. He wants to go out there every fifth day and be a guy that hauls innings. But, I think he figured in the end it was best that we take this approach, for the team and for himself."
Jordan Bastian is a reporter for MLB.com. Read his blog, Major League Bastian, and follow him on Twitter @MLBastian. Alec Shirkey is an associate reporter for MLB.com. This story was not subject to the approval of Major League Baseball or its clubs.