Indians take penalty, sign 30 of 42 Draft picks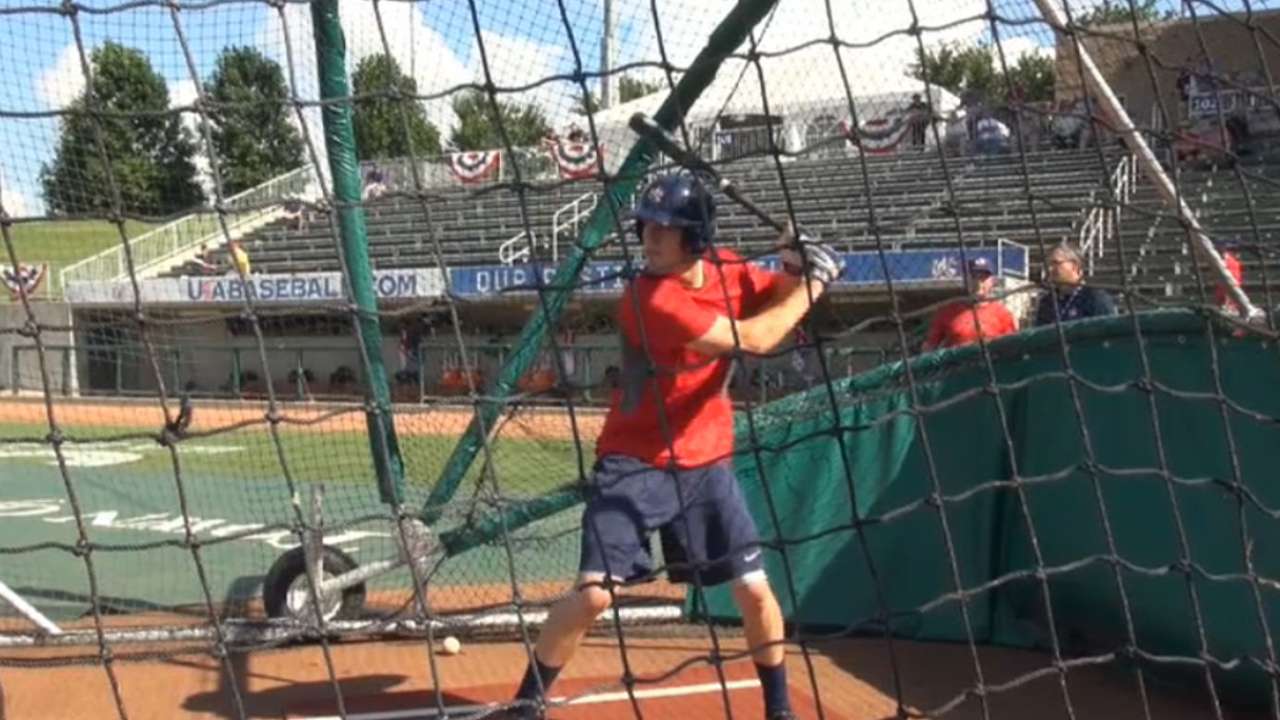 DETROIT -- The Indians did all they could to reach pacts with as many of their selections as possible from last month's First-Year Player Draft prior to Friday's signing deadline. That included spending more money than was permitted for the team's bonus pool.
Cleveland will be penalized for the excess spending, but the team knew the risk involved while convincing players to sign on the dotted line.
"We were fortunate in that the Dolans [ownership] allowed us the opportunity to go slightly above our allotted pool," Brad Grant, the Indians' director of amateur scouting, wrote in an email, "which provided us the flexibility to sign a few additional players. The ability to go above our pool enabled us to add more talent to the organization that we are very excited about."
When Friday's 5 p.m. ET deadline arrived, Cleveland had signed 30 of its 42 Draft picks, including each of its top 15 selections (in the first 13 rounds). Right-hander Grayson Jones (14th round) was the lone player within the Indians' first 26 selections not to sign a contract.
For the first 10 rounds, the Indians were permitted a bonus pool of $8,234,100 for their 12 selections. Cleveland spent $8,355,300, which put them over the pool by $121,200. As a result, the organization will pay a 75-percent tax on the excess.
Cleveland signed its top three selections -- outfielder Brad Zimmer (21st overall), lefty Justus Sheffield (31st) and outfielder Mike Papi (38th) -- for less than their respective slot values. Zimmer had a slot value of $2,008,100, but signed for $1.9 million. Sheffield had a slot value of $1,733,000, but signed for $1.6 million. Papi had a slot value of $1,495,400, but signed for $1.25 million.
The Indians went over-slot on four players within the first 10 rounds: righty Grant Hockin (61st overall), first baseman Bobby Bradley (97th), lefty Sam Hentges (128th) and righty Michah Miniard (248th). Those four players' slots were valued at $2,023,300 combined, but Cleveland spent $3,062,500 to sign that group.
"We were fortunate to be able to sign 30 of our 42 selections this year," Grant said. "Our scouts did a very good job in ensuring that we were able to get our drafted players signed and out and playing. Our first 14 selections were signed by the first week in July, and we are very glad to have all of them out and playing already this summer."
Jordan Bastian is a reporter for MLB.com. Read his blog, Major League Bastian, and follow him on Twitter @MLBastian. This story was not subject to the approval of Major League Baseball or its clubs.