Carrasco building confidence as reliable reliever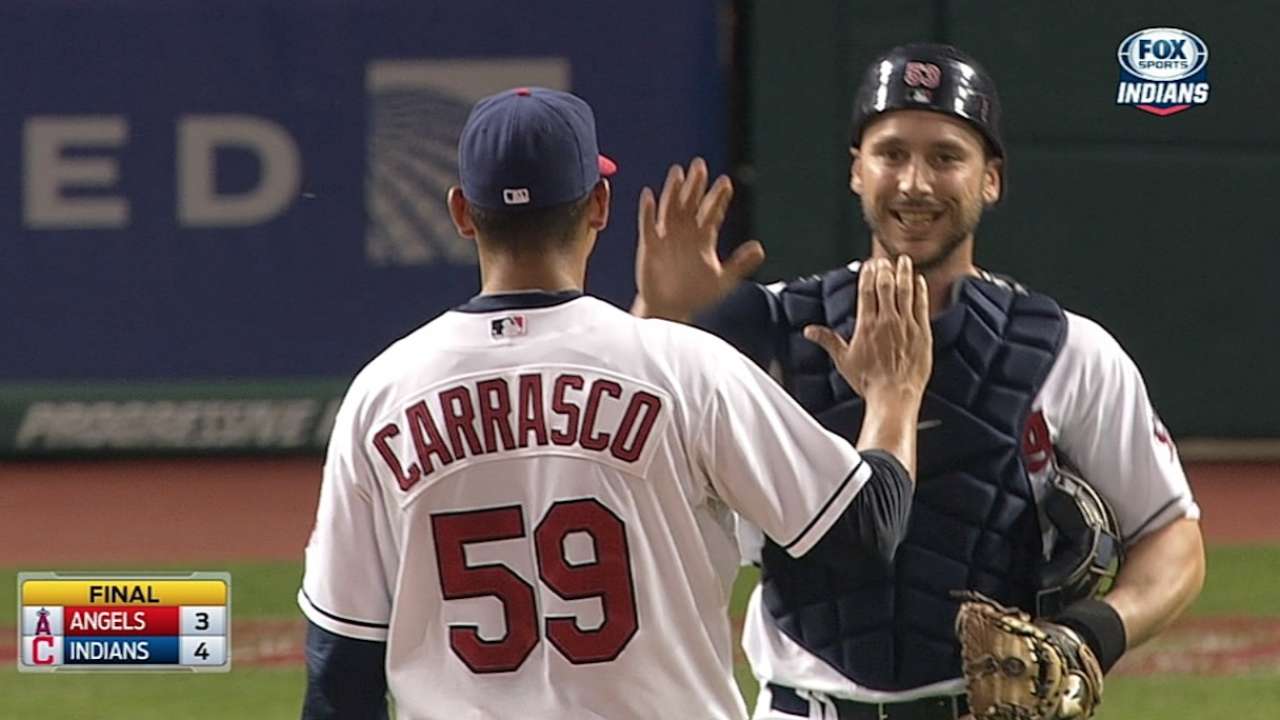 DETROIT -- Earlier this season, Indians manager Terry Francona might not have handed the ball to Carlos Carrasco for the type of situation that came up on Saturday night. The Tigers had the heart of their lineup due up in the eighth inning of a tie game.
Cleveland is beginning to have more trust in Carrasco for such scenarios.
"He's earned that," Francona sad. "I think he deserves to be in the mix, where [when] the game's on the line, you can pitch him. It seems like he's been pitching better like that, which is great."
Carrasco retired Miguel Cabrera, Victor Martinez and J.D. Martinez in order, putting the Indians in position to rally in the ninth en route to a 5-2 win in the second game of a twin bill. On its own, it was an impressive performance. In the larger picture, Carrasco's showing was the continuation of his recent success as a reliever.
Since going 0-3 with a 6.95 ERA in four starts to begin this season, Carrasco has lowered his season ERA to 3.67 across 20 relief appearances. Dating back to May 21, Carrasco has turned in a 0.72 ERA with 25 strikeouts and only four walks in 25 innings out of the 'pen.
"I just feel good there," Carrasco said of being a part of the relief corps. "I just want to try to help the team win some games. That's what I'm getting an opportunity to do now. I just want to enjoy it."
Over the 2013-14 seasons, the 27-year-old Carrasco has gone 0-7 with an 8.18 ERA in 11 starts, during which he's given up a .927 opponents' OPS and posted a 1.87 WHIP in 55 innings. Across that same time period, the right-hander has gone 4-0 with a 1.50 ERA in 28 relief appearances, in which he has a .461 opponents' OPS and a 0.83 WHIP in 48 innings.
"For whatever reason," Francona said, "when he pitches in the bullpen, he just seems like he has a different mentality. Maybe someday that will translate to starting. I know there's a lot of guys in our organization that think that may happen someday. We'll see."
Jordan Bastian is a reporter for MLB.com. Read his blog, Major League Bastian, and follow him on Twitter @MLBastian. This story was not subject to the approval of Major League Baseball or its clubs.