Tribe options Tomlin to make room for McAllister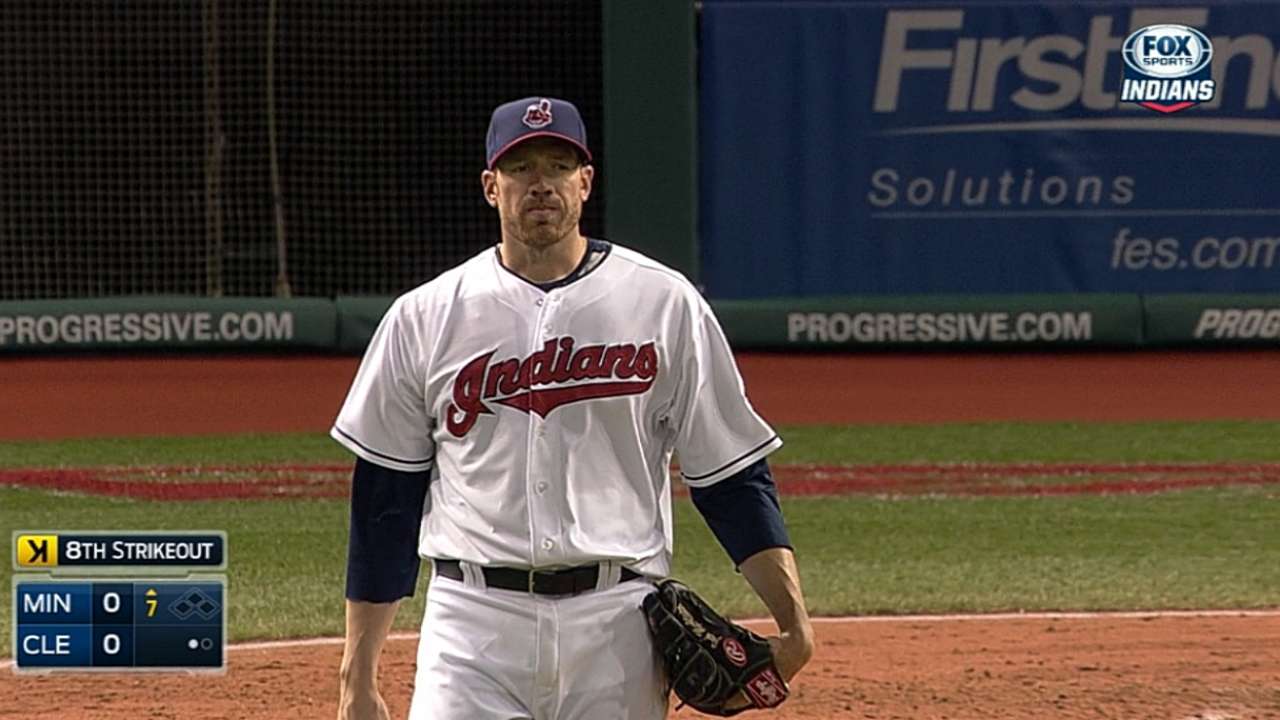 KANSAS CITY -- The Indians have been using a rotation within their rotation for the past few weeks. Starters Zach McAllister, T.J. House and Danny Salazar have shuffled back and forth between the Majors and Minors, giving the club some added roster flexibility.
Prior to Saturday's game against the Royals, the Indians used the approach again by optioning right-hander Josh Tomlin to Triple-A Columbus in order to promote righty McAllister for a start against Kansas City. With an off-day on Monday and starter Justin Masterson expected to be activated from the disabled list soon, Tomlin became the odd-man out.
"With the makeup right now," pitching coach Mickey Callaway said on Friday, "we've got [a few] guys that are pitching decent that we can kind of manipulate [our roster] and do some matchup-type things, and pitch who we want against who and stuff like that."
McAllister entered Saturday 3-5 with a 5.28 ERA in 12 starts this season, but the righty has a 2.92 ERA in two starts (12 1/3 innings) since a stint on the disabled list and in the Minors. He was recalled on July 19 as Cleveland's 26th player to start the second game of a doubleheader in Detroit. In that outing, McAllister allowed one run, walked three and struck out six in 5 1/3 innings.
Tomlin has been a fixture in Cleveland's rotation in May, but some recent struggles have dragged his season record to 5-7 with a 4.47 ERA and 16 homers allowed in 15 appearances. Over his past seven turns in the rotation, the righty has gone 1-4 with a 5.75 ERA, and that includes his one-hit shutout against the Mariners on June 28 in Seattle.
After starting the season 3-1 with a 2.91 ERA in four outings, Tomlin has gone 2-6 with a 4.98 ERA in 11 appearances for the Tribe. In his start against Kansas City on Friday, the right-hander allowed four runs (three earned) on seven hits across 5 1/3 innings of a no-decision.
"Josh means so much to what we're doing, that we weren't thrilled about doing it," manager Terry Francona said of sending the pitcher to Triple-A. "But we just thought it made sense after we walked through it about 10 times. Then, we explained it to him today and we'll move forward."
Callaway said it is important to explain to the starters in detail that the recent trips to and from the Minors are not strictly demotions, but a way to maximize the roster.
"You're always disappointed when you get sent down," said Callaway, who was not speaking about any of Cleveland's pitchers specifically. "It's tough to take, so sometimes that initial meeting, you have to follow up on it, because they don't hear exactly what you want them to hear. They just hear, 'You're going to Triple-A.'"
Jordan Bastian is a reporter for MLB.com. Read his blog, Major League Bastian, and follow him on Twitter @MLBastian. This story was not subject to the approval of Major League Baseball or its clubs.