Tribe gets outfield prospect from Cards for Masterson
Indians deal sinkerballer to St. Louis with sights still set on reaching postseason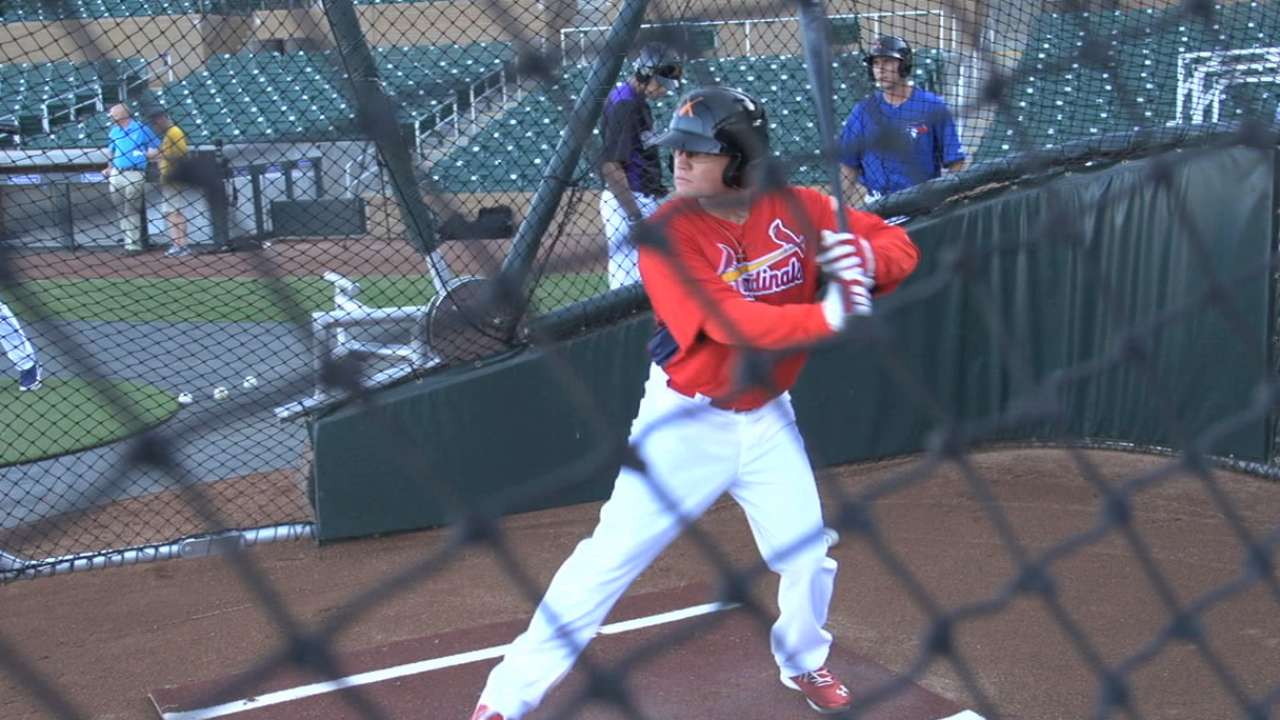 CLEVELAND -- The Indians entered Spring Training with every expectation that Justin Masterson would anchor their rotation in 2014. His ensuing struggles certainly weren't how the team envisioned his season playing out.
So when Cleveland had the opportunity to trade Masterson on Wednesday in a trying year before his contract expires, general manager Chris Antonetti pulled the trigger, sending the sinkerballer to St. Louis in exchange for Double-A outfielder James Ramsey. Despite dealing the right-hander to another team, the Indians are far from considering themselves sellers on the non-waiver Trade Deadline market.
Prospect acquired by Indians
James Ramsey, OF: While at Florida State, Ramsey earned some comparisons to Tim Tebow for his on-field performance and his strong Christian faith. He was a Rhodes Scholar nominee and managed to be the rare college senior drafted in the first round when the Cardinals made him the 23rd overall pick in 2012. He quickly rose to Double-A Springfield and returned there in 2014. He hit .305/.393/.531 in 67 games this season and ranked sixth in the Texas League with 13 home runs at the time of the deal. He is a solid all-around player and has the versatility to play all three outfield positions. His high baseball IQ and intangibles help all of his tools play up, giving him a good chance to be an everyday outfielder in the big leagues.
Top 20 Prospects
:
Indians
|
Cardinals
-- Teddy Cahill
The club still believes the playoffs are within reach, and its front office is trying to land a big fish -- namely another starting pitcher -- in order to help make the postseason a reality.
"We continue to believe in the guys in the clubhouse and our baseball that's left in front of us," Antonetti said. "We're currently in the midst of conversations to bring in players to impact our Major League team. Whether or not that happens over the next 24 hours, there are a lot of factors in play and it's hard to handicap that."
As it became increasingly unlikely that Cleveland would extend a qualifying offer to Masterson -- thereby having the chance to receive a compensatory Draft pick if he signed elsewhere -- moving him in the short term made plenty of sense, as it allows the Indians to acquire something in return for Masterson. Had he been allowed to walk at the end of the season, the Tribe would have received neither player nor Draft pick.
"That's a consideration," Antonetti said. "Obviously we have to factor all of those things in. With the way the game has evolved, especially for players approaching free agency, it's a complex equation."
By trading Masterson, who is making roughly $9.8 million this season, the Indians also save just over $3 million -- the prorated amount still owed on the remainder of his contract. He is 4-6 with a 5.51 ERA in 19 starts this season, and is currently on the 15-day disabled list with a right knee issue, but the 2013 All-Star selection still drew interest on the trade market given his success last year, when he went 14-10 with a 3.45 ERA.
Masterson, winner of 37 games from 2011-13, will make his first start for the Cardinals on Saturday. The quandaries of how to address the drop in velocity on his fastball and his lack of command weighed heavily on the Tribe coaching staff and, in the end, proved unsolvable.
"We tried a lot of different things," Tribe manager Terry Francona said. "[Pitching coach Mickey Callaway] about killed himself trying to figure it out. You don't want to overwhelm players, too, especially veteran players and guys who have done it."
Perhaps the best cure for the ailing 29-year-old, then, could be a change of scenery.
"I think for Masty, a new start can be helpful," Francona said. "I think when you have a guy, especially when they've accomplished what they've accomplished, I think it can be difficult. Especially for Mickey, because sometimes you maybe want to try something new, but you also know what worked before had a lot of success."
For Masterson, the move was a bittersweet one. After being included in the package that allowed the Red Sox to acquire Victor Martinez five years ago, he once again parts ways with Francona, who has been his manager for four of his eight seasons in the Majors.
"Tito keeps trading me away. I don't know what's up with that," joked Masterson. "I think it makes it a little bit easier. A lot of it, the first time, the relationships and all that are so great. You realize that they transcend baseball. They'll be more than that. Although sad in the moment, who knows what's going to happen after the season's over."
The first step after the season ends, of course, is that the veteran pitcher will become a free agent -- unless the Cardinals sign him to an extension. Masterson wouldn't rule out returning to Cleveland when the time comes.
"You can't burn too many bridges in this life," Masterson said. "Only a few. You can't burn 'em all. You have to keep a few open. You just never know what's going to happen."
For the next two months, however, Masterson will try to regain his old form and ideally bolster the Cardinals' chances at a deep postseason run. The Indians players, though they certainly wish him the best, will soon return to focusing on those same playoff goals.
"I think our guys are fine," Francona said. "I don't think we need to rally together. I think everybody's pretty good in there. They're going to lose a pretty good friend, and that's hard to do, but when the game starts, the game starts."
Alec Shirkey is an associate reporter for MLB.com. This story was not subject to the approval of Major League Baseball or its clubs.