Kluber records historic 'Maddux' in shutout
Righty one of seven Tribe pitchers to complete shutout with fewer than 100 pitches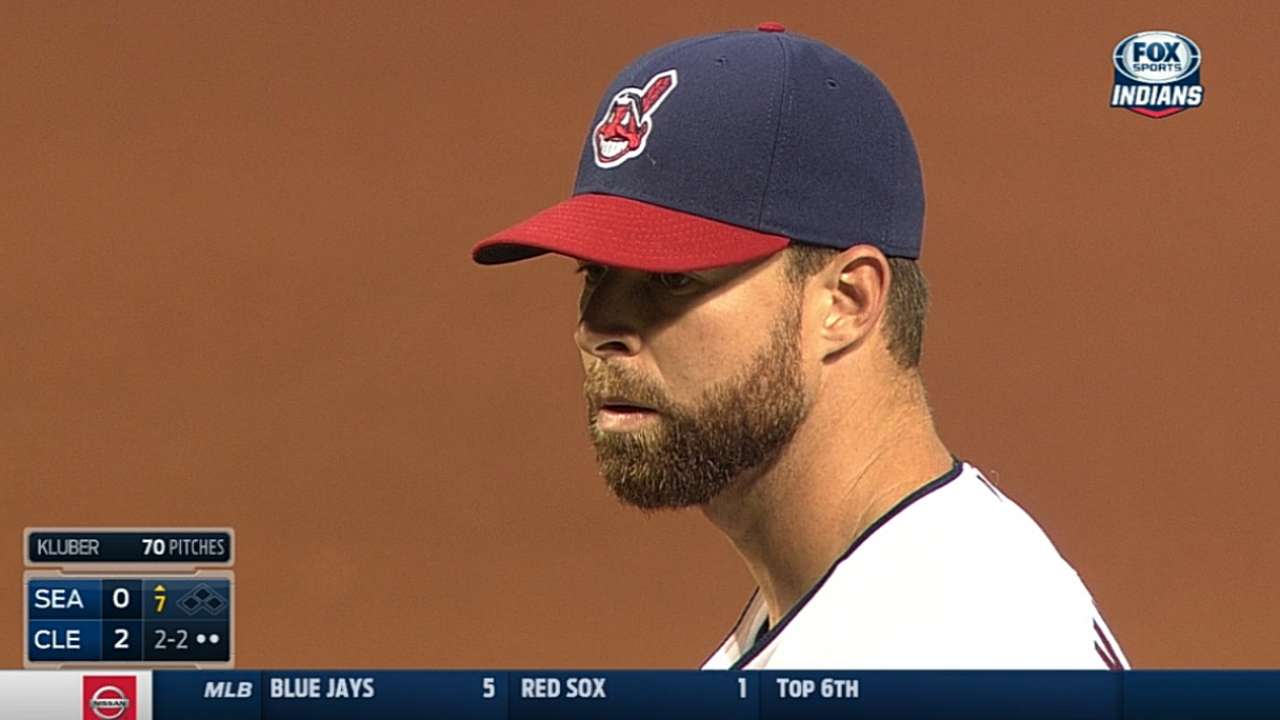 CLEVELAND -- Corey Kluber turned in another dominant performance on Wednesday night, needing just 85 pitches to throw a complete game shutout in the Tribe's 2-0 win over the Mariners. The right-hander threw an astonishing 69 of those pitches for strikes while recording eight punchouts, scattering three hits and issuing zero walks.
The outing marked the fourth time in his last five starts that Kluber (11-6, 2.61 ERA) has pitched into the ninth inning, though this game was the first time in his career he kept a shutout going for the full nine.
"I think he did everything you could possibly want a pitcher to do today," pitching coach Mickey Callaway said. "Everything you stress from Little League up to the first day of Spring Training this year. 0-0 strikes, 1-1 strikes, control the count, get ahead, pound the zone. He did it all, and it was fun to watch."
While going toe-to-toe with Seattle's Felix Hernandez made for an intense pitching duel, Kluber's efficiency allowed him to qualify for what is known in baseball circles as a "Maddux" -- that is, a complete-game shutout that takes fewer than 100 pitches. A term believed to have been coined by baseball blogger Jason Lukehart, the "Maddux" is a feat named after Hall of Fame pitcher Greg Maddux, who fittingly leads all pitchers with 13 "Madduxes" since 1988.
Kluber became one of seven Indians pitchers to record a "Maddux" since 1988, when Major League Baseball first began tracking pitch counts, and the first to do so since Cliff Lee on June 14, 2009. The others are Greg Swindell (1988), Charlie Nagy (1992), Bartolo Colon (1998 and 2002) and Paul Byrd (2007).
However, Kluber's 85 pitches were the least of that group, while his 69 strikes thrown ranked second only to Lee's 70.
"He threw 16 balls. My math is horrendous, but that's like two an inning?" Tribe manager Terry Francona said. "And it's solid stuff, locating. He's not just throwing it down the middle. He's hitting in, out, up, down, changing speeds. Man, that was really impressive."
The 28-year-old's clinic on the mound had plenty of other historic implications, as well, including:
• Kluber becomes the first pitcher in Major League history to face 28 batters or fewer in back-to-back starts of at least nine innings. He took a no-decision in Kansas City last Thursday despite allowing one unearned run over a complete game.
• Kluber set a club record by pitching his 10th game of the season with at least eight strikeouts and no more than one walk, surpassing CC Sabathia's nine such games in 2007, when he won the AL Cy Young Award.
• Kluber became the first Indians pitcher to not issue a walk in consecutive nine-inning starts since Lee in 2009, who accomplished the feat on July 16 versus Seattle and July 21 at Toronto.
• Kluber becomes one of just 20 pitchers to work a complete game shutout on 85 or fewer pitches since 1988 and the first to pull the trick since Boston's Aaron Cook did so on June 29, 2012 -- also against the Mariners.
Alec Shirkey is an associate reporter for MLB.com. This story was not subject to the approval of Major League Baseball or its clubs.