Tribe won't rush Lindor despite Cabrera trade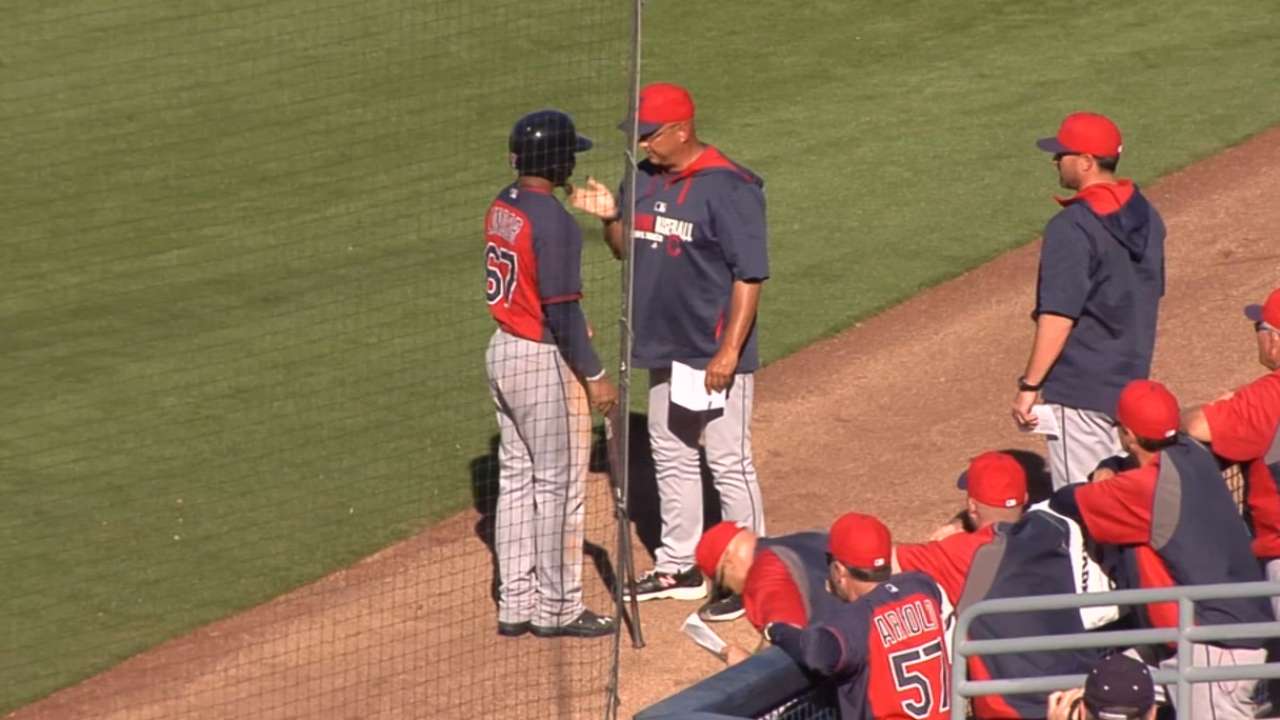 CLEVELAND -- With Asdrubal Cabrera set to become a free agent at the end of the season, there was always the possibility that the Tribe would part ways with him before Thursday's non-waiver Trade Deadline.
Given the organization's wealth of young infield talent waiting in the wings, that possibility slowly morphed into an inevitability that the 28-year-old would find himself with another club sooner rather than later.
In the immediate, Cabrera's departure gives infielder Jose Ramirez a chance at more playing time, while utility man Mike Aviles is also expected to work himself into the mix at shortstop. In the not-too-distant future, however, the move likely expedites top prospect Francisco Lindor's ascension to the Majors.
Lindor is in the midst of a strong season in which he hit .278 with a .352 on-base percentage and 25 stolen bases at Double-A Akron before earning a promotion to Triple-A Columbus earlier this month. The young shorstop is off to a hot start with his new affiliate as well, having hit .323 with two homers through eight games.
The Indians' front office played coy about Lindor's chances of getting called up before the season ends. Should the former first-round Draft pick continue progressing at his torrid pace, however, the organization could be hard-pressed to keep him in the Minors.
"With Francisco, our focus is what's best for him developmentally," general manager Chris Antonetti said Thursday. "He's just now getting his first exposure to Triple-A and we're continuing to work with him on his development and his improvement. But I think right now, for us, it's Mike Aviles and Jose Ramirez at shortstop. As I've said, we were able to make this type of trade because of our belief in those two guys."
"That's been a consistent message with us to Francisco, to focus on his own development and continuing to improve and work each day as a player. Because that's the thing he can control."
The versatile Aviles has played seven of his 72 games this season at shortstop and filled in capably earlier this month when Cabrera missed a few games due to lower back spasms. Ramirez, considered the club's sixth-best overall prospect by MLBPipeline.com, has spent much of his season with Columbus, where he's hit .302 with five homers and 19 steals.
Ramirez, 21, has proven himself a capable defender throughout his professional career, but he has not adjusted his offensive game to the Major-League level as quickly. Through 16 games across two stints with the Indians this year, the switch-hitter is just 8-for-44.
"Any time you're young, whatever you get thrown at you, and then you go back, it all helps," Tribe manager Terry Francona said. "Forgetting that this kid's really young and his grasp of the language is improving, and as it does keep improving, that will help, too. The one thing we always worry about is the pace of the game, especially for young guys. Then when you don't speak the language, the game can really go fast. That's the one thing that doesn't happen with Jose."
Alec Shirkey is an associate reporter for MLB.com. This story was not subject to the approval of Major League Baseball or its clubs.