Indians designate McAllister for assignment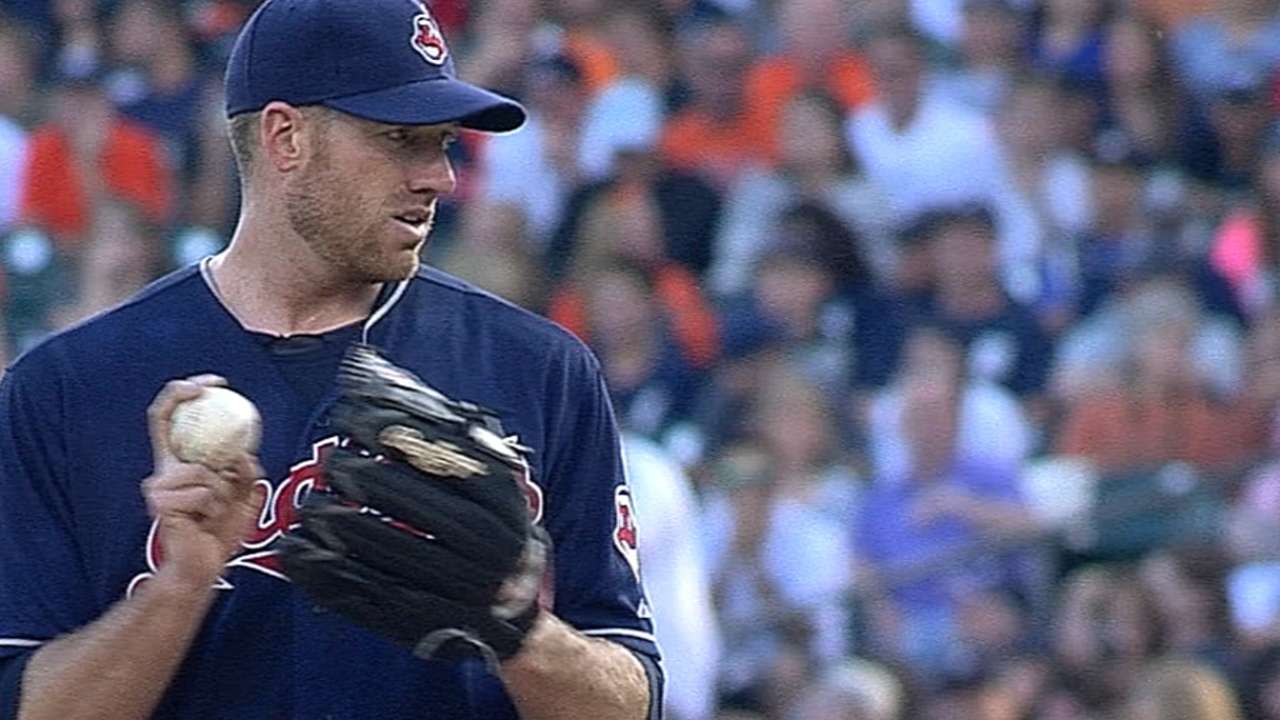 CLEVELAND -- The Indians remain hopeful that Zach McAllister can still return to the strong form he displayed earlier this season. Clearly, however, they do not feel the right-hander's current problems can be addressed at the Major League level.
The club designated McAllister for assignment on Friday with the intention of eventually optioning him to Triple-A Columbus. With a new waiver period now in effect following Thursday's non-waiver Trade Deadline, the Indians need to wait two days in order to secure the 26-year-old's optional waivers and remove him from the 25-man roster, since it has been more than three years since his Major League debut (July 7, 2011). In essence, the transaction accomplishes the same as if the Indians had simply optioned McAllister to Columbus outright.
Regardless of technicalities, the move was a difficult one for the young pitcher to accept.
"We talked to Zach for probably an hour," Tribe manager Terry Francona said. "A lot of it was just trying to understand with young players, pitchers -- sometimes they want to be so good so bad that they lose track of how to get there. They want to stay in the Majors so bad -- as opposed to, 'How am I going to help our team win?'"
The Indians are expected to make another roster move on Saturday so that left-hander T.J. House (1-2, 4.50 ERA) can return from Columbus to make his scheduled start against the Rangers.
McAllister returns to the Minors after posting a 2.23 ERA across six starts with Columbus earlier this season, which came in the wake of a stay on the 15-day disabled list due to back soreness. His July 12 return to the Cleveland rotation began with promise, as he allowed just four runs in a combined 12 1/3 innings through his first two starts, but he has since struggled to locate his fastball and has gone no deeper than four innings in each of his past two outings.
"Baseball's a games of ups and downs, but you want to be as consistent as possible," said McAllister, who is 0-4 with a 9.88 ERA over his last seven outings. "Any time you put together a couple good starts and then have these two that I was obviously not happy with, it's not very fun to go through. But it's what you're able to do between starts that'll allow you to bounce back."
Francona mentioned McAllister's confidence when asked what was ailing his starting pitcher, and he believes further time in lower-pressure situations could help get the tall righty back on track.
"I think it's very important that he starts to pitch in Triple-A and not feel like he's on an island, not feel like he's alone doing it himself," Francona said.
Alec Shirkey is an associate reporter for MLB.com. This story was not subject to the approval of Major League Baseball or its clubs.