Thome gives credit to Manuel in speech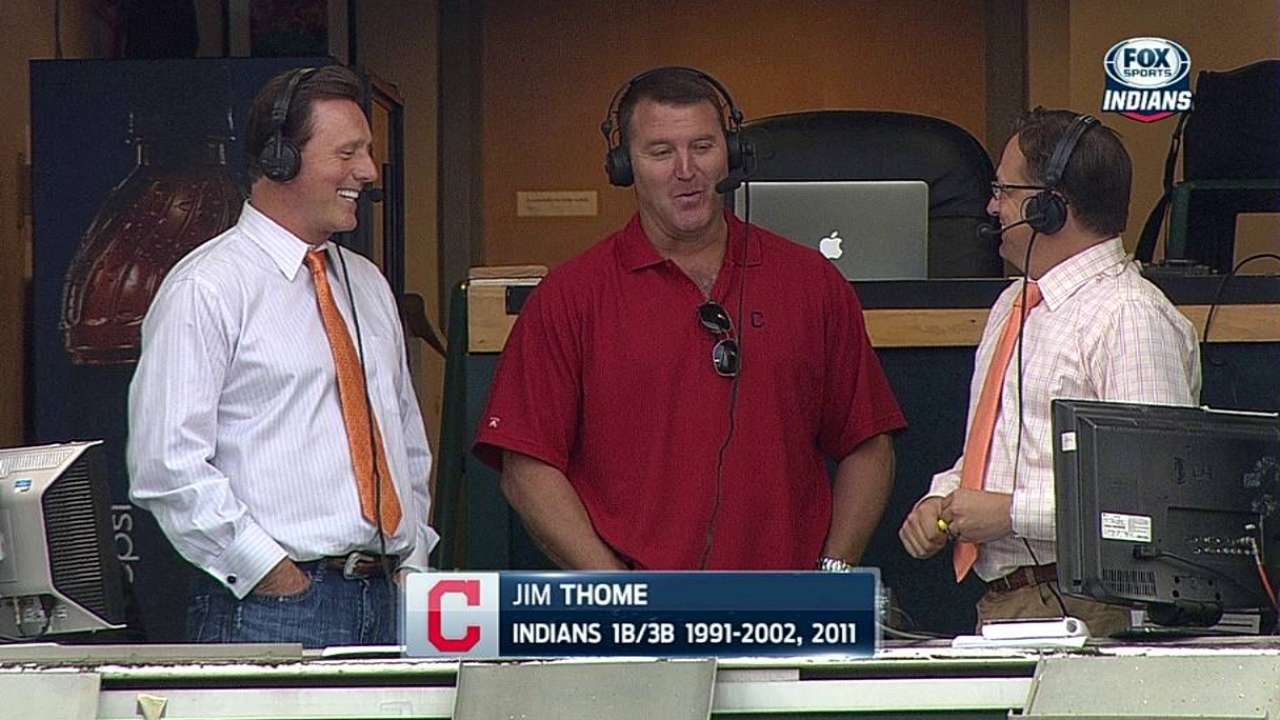 CLEVELAND -- The legacy of longtime Tribe power hitter Jim Thome is inexorably tied to the piles of home runs he hit as a Major Leaguer. The man to which he credited much of his success -- Charlie Manuel -- knew him before any of that.
Manuel, once a Minor League manager in the Indians organization, was the coach who worked most with Thome to develop the iconic batting stance and swing that would come to embody his reputation around the league. So when Thome gave thanks to those that helped him during his statue unveiling ceremony on Saturday night, the big man couldn't help but get a little choked up when he reached Manuel's name on the speech card.
"Charlie Manuel, I kind of feel like you should be in bronze here with me," Thome said. "You did help teach me that stance, after all. But more importantly I think you taught me so much more about the game. That's how to conduct yourself, to be the tough player, even when you're a little hurt to run yourself out there, because you never know what could happen. And I so appreciate that."
Manuel stuck to lighter topics when he spoke in front of the many fans gathered at Progressive Field, mostly sharing anecdotes about the unproven 13th-round Draft pick whose monumental success even surprised his old hitting coach.
"I remember him walking up more than once, [Thome] would walk up and say, 'Chuck, how many home runs do you think I could hit?'" Manuel said. "And I'd look at him and go, "I don't know Jimmy, tell me how many you want to hit.' He said 'I don't know, you tell me.' I said, 'You could hit 500.' I remember telling him that."
"I didn't know he was going to hit 612. I never will take credit for any of them, but I will take credit for getting to watch a lot of them."
Alec Shirkey is an associate reporter for MLB.com. This story was not subject to the approval of Major League Baseball or its clubs.