Atchison embraces role as elder statesman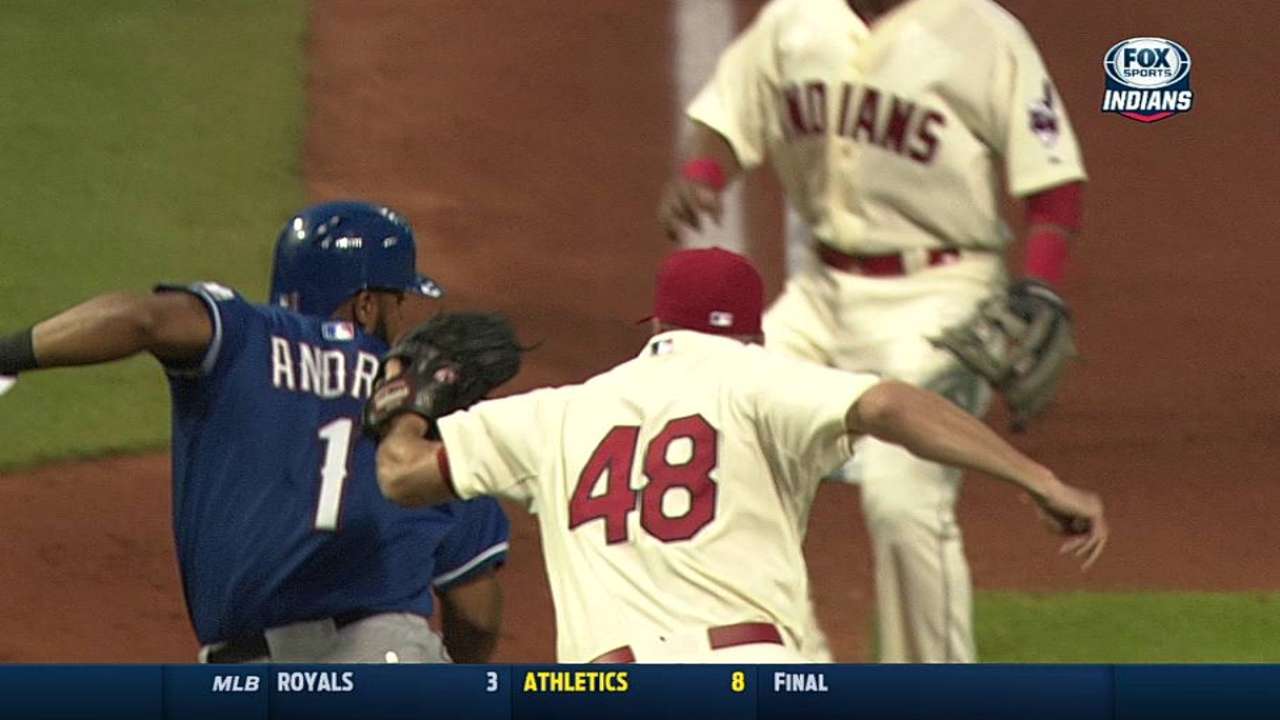 CLEVELAND -- On a team full of young pitchers, Scott Atchison has embraced his role as elder statesman of the Tribe bullpen. On Saturday, the 38-year-old reliever reminded teammates that, despite his age, he can still move around pretty well, too.
In the sixth inning of a then-tied ballgame, Atchison caught speedy Rangers shortstop Elvis Andrus in a rundown play between third and home plate, lunging at Andrus to record the tag before he could return to safety.
"Just trying to show off my speed," Atchison joked. "I thought I had a pretty good chance judging by where his momentum was and where I was that I could get him. I'm maybe not as slow as I look."
Age jokes aside, Atchison has been an important cog in the Cleveland bullpen this season, posting a 2.77 ERA through 46 relief appearances since coming aboard on a Minor League contract in the offseason. He proved invaluable in the team's Saturday night win over the Rangers, as well, working 1 2/3 scoreless innings after inheriting a pair of baserunners from starter T.J. House.
"Atch is universally respected in our clubhouse and at the same time, probably teased to death," Tribe manager Terry Francona said on Sunday. "He's just a really good guy that hasn't been given a whole lot during his career. He's had to earn everything he's ever gotten and I think he appreciates what he has. That's maybe sometimes almost a rare combination.
"We thought coming into camp this year that if our rotation or our bullpen allowed us to use him like we wanted, that he could get to where he is. He's done a really good job."
Alec Shirkey is an associate reporter for MLB.com. This story was not subject to the approval of Major League Baseball or its clubs.