Many facets to Ramirez's growth with Tribe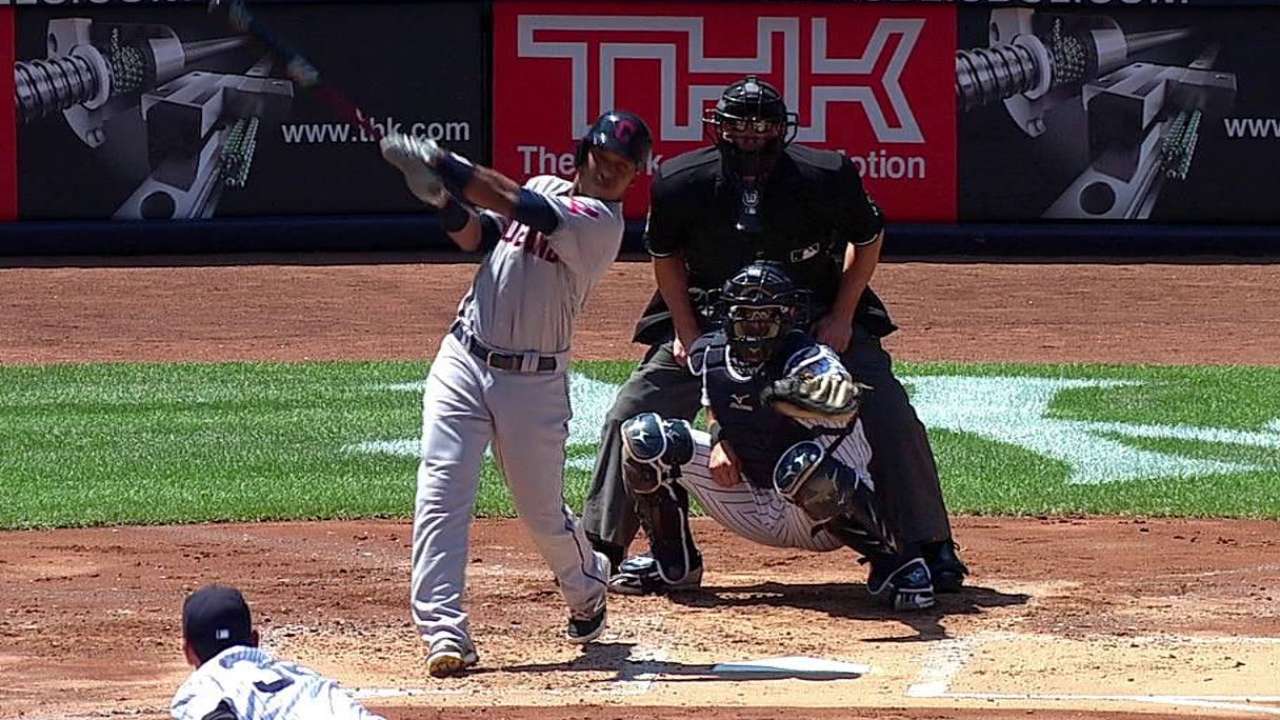 NEW YORK -- After trading long-time shortstop Asdrubal Cabrera to the Nationals at the end of last month, the Indians made it clear that they wanted to take a close look at infield prospect Jose Ramirez. So far, Cleveland has liked what it has seen defensively from the youngster, considered its No. 6 prospect by MLB.com.
"I've thought Jose has played very well at shortstop," Indians general manager Chris Antonetti said. "I think we've seen his range and he's got a really good clock, where he's got a great feel for who the hitter is and how quick he's getting down the line and making sure he gets the ball there on time. I've thought he's done a good job."
With Cabrera no longer in the picture, Cleveland has used a mix of the 21-year-old Ramirez and veteran utility man Mike Aviles at shortstop. Having Ramirez holding his own at short has also allowed the Indians to keep top prospect Francisco Lindor (currently at Triple-A Columbus) on a steady development path.
Through his first 26 games in the big leagues this season, Ramirez has hit just .205 in 73 at-bats, but he collected his first big league homer in the second inning of Saturday's game, hitting a two-run drive off Brandon McCarthy to begin a 3-for-4 day. Ramirez's offensive potential was on full display earlier this year at Triple-A, where the switch-hitter posted a .302 average with 19 stolen bases, 22 extra-base hits, 29 RBIs and 37 runs in 60 games.
The Indians believe they have a solid infielder on their hands in Ramirez, but Cleveland manager Terry Francona said the development goes beyond just the playing field.
"We've been on him a lot about learning English," Francona said. "Even though it's not fair, the more he speaks English, the better it's going to make him. It's really hard to communicate with him. Like, the other day, I was taking him out of the game in a double switch. He didn't understand, and Carlos [Santana] had to tell him. He worked hard when he was in Triple-A, and we're trying to do it now.
"You're trying to develop a young player. You can't just wind him up and send him out there. We need to be able to coach, and it's a little harder. And it has to be on him mostly. Heck, we can dabble in Spanish, but he's going to play here. So we're really trying as an organization to kind of make it a priority for him, because I'm not sure that's always how he viewed it."
Jordan Bastian is a reporter for MLB.com. Read his blog, Major League Bastian, and follow him on Twitter @MLBastian. This story was not subject to the approval of Major League Baseball or its clubs.