Walters makes debut with Indians in left field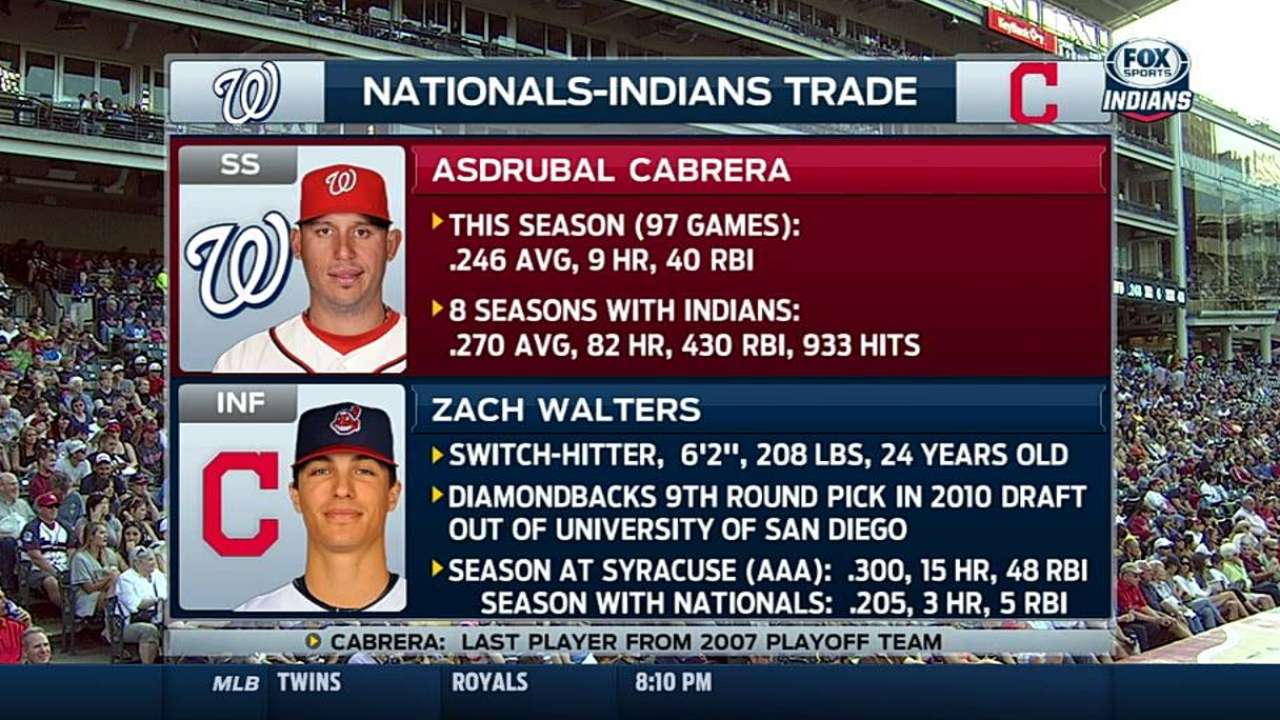 NEW YORK -- Zach Walters was just happy to have his name in the starting lineup for his first game with the Indians. The fact that manager Terry Francona gave him the nod in left field at Yankee Stadium mattered little to the young infielder.
"I picked some good daisies out there," Walters said with a grin, following Cleveland's 4-1 win over New York on Sunday. "As long as I get to hit, I don't care where they play me. I'm not worried about it."
Walters did not do much (0-for-3 with a walk) in his debut with the Tribe, but Francona and the rest of the Cleveland brass are eager to be getting a first-hand look at the versatile player at the big league level. The Indians acquired the 24-year-old Walters from Washington on July 31 in the trade that sent veteran shortstop Asdrubal Cabrera to the Nationals.
A middle infielder by trade, Walters has flashed a potent bat throughout his Minor League career. In 67 games at the Triple-A level this season, he launched 17 home runs with 56 RBIs.
"It's been a lot of power with some swing and miss," Francona said. "I've never seen him play [before Sunday], but I've talked to a number of scouts or baseball people since we acquired him that all say, 'Hey, way to go. Good job.' There's a lot to like. So, I'm kind of looking forward to it."
Walters is most experienced at shortstop and second base, but he has played some outfield in the Minors this season.
"He's played enough left field," Francona said, "where the guys that have seen him said, 'Don't hesitate to play him there.'"
Walters said the trade did not come as much of a surprise.
"I kind of suspected it a little bit -- to be honest -- from some things I heard," Walters said. "It feels like [Cleveland] was happy to have me and I kind of reiterate, everyone's been great. All of the staff, front office, the players, everyone's been kind of accepting. I think that's the biggest thing -- feeling comfortable."
Jordan Bastian is a reporter for MLB.com. Read his blog, Major League Bastian, and follow him on Twitter @MLBastian. This story was not subject to the approval of Major League Baseball or its clubs.