Kluber to rest an extra day before final grind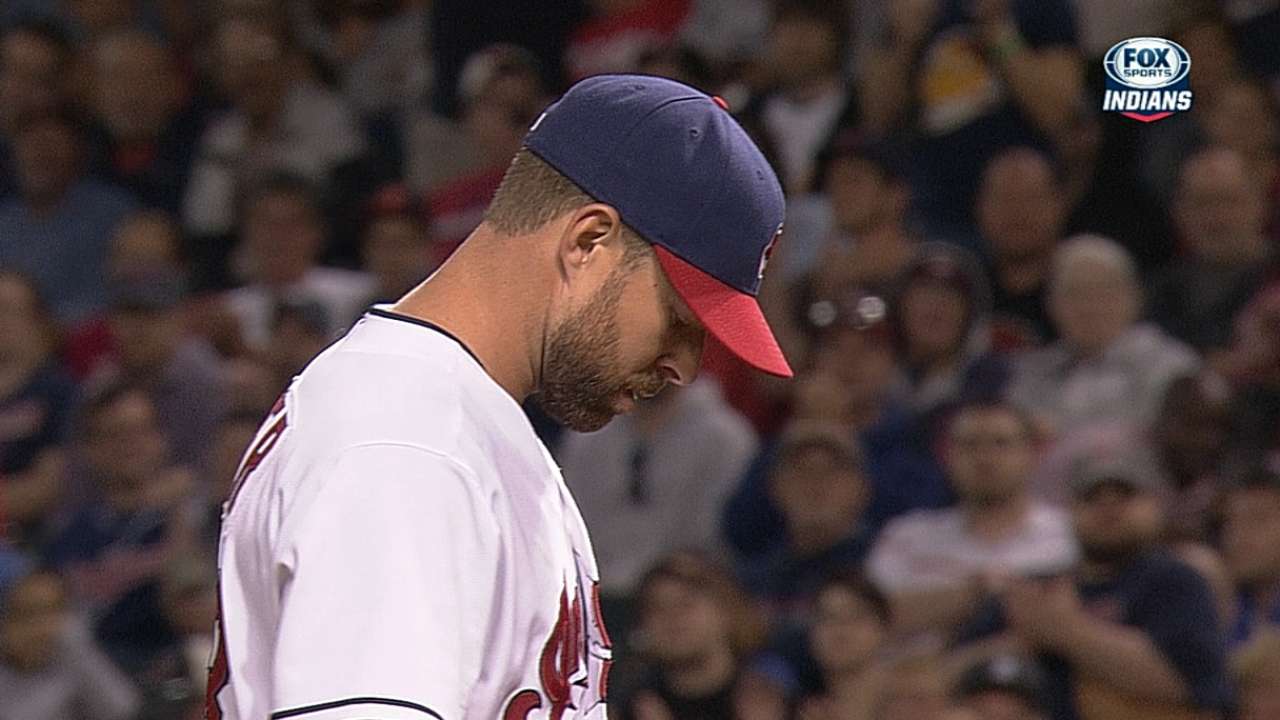 CLEVELAND -- The easy thing for the Indians to do right now would be to hand the ball to Corey Kluber every five days without exception. Cleveland has decided, however, to use some caution with the leader of its rotation next week.
With an off-day looming on Monday, the Indians have opted to push Kluber's next start back to Thursday in Minnesota, giving the right-hander an extra day of rest. It might be the last chance to take that approach with Kluber, considering the Tribe has 30 games in a row without a break after an off-day on Aug. 25.
"Originally, he wanted to stay on his day, which is really good news," Indians manager Terry Francona said on Saturday. "That means he feels good physically. But I think when [pitching coach Mickey Callaway] talked to him, moving him back a day is not going to affect [anything]. He's not going to get an extra start at the end of the year or anything like that, and this will probably be the last time.
"So I think after thinking about it for a minute, I think [Kluber] felt like that was good. Take the extra day when you can get it, use it to your advantage, because the rest of the way out, I don't really see many opportunities to do that, nor do we want to."
As a result, Cleveland's probable pitchers for the upcoming road series against the Twins will be Trevor Bauer (Tuesday), T.J. House (Wednesday) and Kluber (Thursday).
On Friday night, Kluber logged 7 2/3 innings and struck out 10 batters, limiting the Orioles to one run in Cleveland's 2-1 win in 11 innings. Kluber became the first Indians pitcher in the past 100 seasons to log at least six innings with at least seven strikeouts and no more than one earned run allowed in five consecutive starts.
The last Cleveland pitcher to have five straight starts with at least six innings and no more than one earned run surrendered was Orel Hershiser in 1996.
On the season, Kluber has gone 13-6 with a 2.41 ERA in 26 starts, during which he has piled up 197 strikeouts against 38 walks in 179 1/3 innings. Over his last five starts, he has gone 3-0 with a 0.46 ERA in 39 innings (45 strikeouts and five walks). Kluber is 7-1 with a 1.19 ERA and .181 opponents' average over his last 10 starts, which have included 83 strikeouts, 11 walks and 75 2/3 innings.
"Klubes has been very dominant, and it's fun to watch," Francona said. "You're not going to necessarily go out and have an ERA around 1.00 the whole year, but it's certainly not fluky. What he's doing is real. And, with his ability, and all the things we talk about -- work ethic, aptitude -- as long as he stays healthy, man, there's really not a ceiling."
Jordan Bastian is a reporter for MLB.com. Read his blog, Major League Bastian, and follow him on Twitter @MLBastian. This story was not subject to the approval of Major League Baseball or its clubs.