Gomes impressing Francona in all facets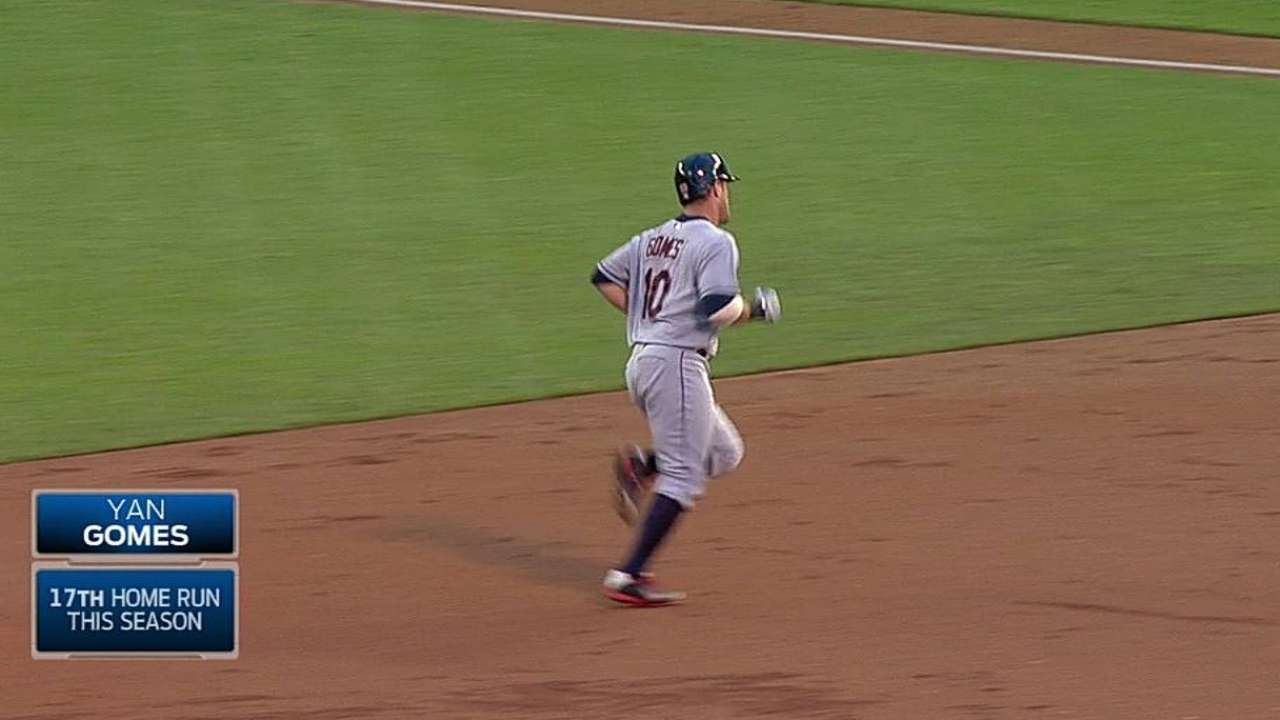 MINNEAPOLIS -- If it were possible, Indians manager Terry Francona would probably pencil Yan Gomes' name into the lineup every single day. That is not how to handle an everyday catcher, though, and Gomes received a well-deserved day off from starting on Wednesday against the Twins.
Gomes has been a steady performer at the plate all season long, but the young catcher has been on a tear in the batter's box in the season's second half. Francona will never admit to be surprised by such a development.
"I think he's been pretty consistent, especially for a guy that swings a lot," Francona said. "He takes good care of himself. He's a strong kid and he's prepared for this. He wanted this opportunity. This is why we wanted him to be our catcher."
Entering Wednesday, the 26-year-old Gomes had turned in a .359/.383/.621 slash line with six home runs, nine doubles, 16 runs, 20 RBIs and a 1.005 OPS over his past 30 games for the Indians. According to Fangraphs.com, Gomes' 179 wRC+ (a weighted version of Runs Created where 100 is league average) in the second half ranked first in the American League.
Overall this season, Gomes has hit .285 with 17 home runs, 39 extra-base hits, 53 RBIs and an .805 OPS through 108 games for the Tribe.
"Everything that he's done means a lot," Francona said. "His care of running a game, getting those pitchers through innings. And he's always sitting there with that power. He's just a good player."
Francona also reiterated that the Indians want Gomes to focus on his defense first, making any offensive contributions a bonus.
"He can go 0-for-4 and, if we're shaking hands [after a win], what he did was good enough," Francona said. "The priority is running the game and, for a younger catcher, he's taken to that very easily and very quickly. We love that."
Jordan Bastian is a reporter for MLB.com. Read his blog, Major League Bastian, and follow him on Twitter @MLBastian. This story was not subject to the approval of Major League Baseball or its clubs.