Tito thinks of Schilling during Ice Bucket Challenge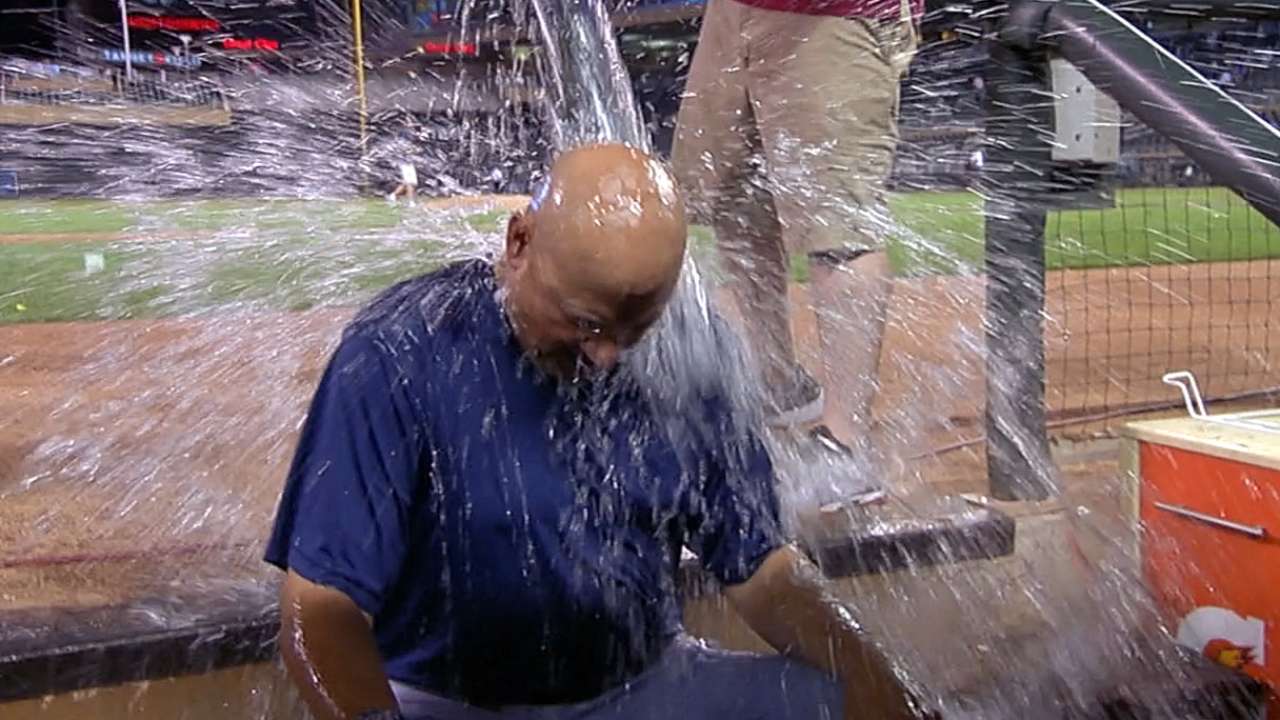 MINNEAPOLIS -- Indians manager Terry Francona had a good friend on his mind as a cooler filled with ice and cold water was dumped over his bald head on Wednesday night.
Francona, along with the rest of the Cleveland coaching staff, participated in the ALS ice bucket challenge that has been sweeping the nation via social media. Francona took part with his thoughts on former pitcher Curt Schilling, who revealed this week that he is in remission from oral cancer and has been an advocate for ALS charities for several years.
"The whole time I was doing it," Francona said, "and I don't want to get all emotional, but I was thinking of Curt Schilling. I know how near and dear the fight to find a cure for this is to him. I saw him. He was on TV and radio [Wednesday]. I got to hear him. That is what I was thinking about the entire time."
Francona and his coaches completed the challenge on the visiting dugout steps after the Tribe's 5-0 win over the Twins on Wednesday, and the team informed Minnesota of the event to make sure there was no confusion over what might have looked like a postgame celebration. Earlier this week, Indians team president Mark Shapiro, as well as a handful of the team's players, also did the challenge.
Red Sox manager John Farrell -- a good friend of the Tribe's skipper -- initially challenged Francona to participate in the charitable cause. The ice bucket challenge has involved having ice water dumped on a person's head, and the participant is also encouraged to donate to an ALS charity of their choice.
Schilling, who pitched for Francona in both Philadelphia and Boston, heads Curt's Pitch for ALS, which is a charity aimed at raising funds to help find a cure for the disease.
"The idea behind it is awesome," Francona said. "Because of how I feel about Schill, and what he's going through, the timing of it was impeccable. ... The timing for me personally was really rewarding."
Of course, Francona could not end the conversation without working in a shot at Indians bullpen coach Kevin Cash.
"He was the biggest baby," Francona said with a smirk. "He was grumpy all day."
Jordan Bastian is a reporter for MLB.com. Read his blog, Major League Bastian, and follow him on Twitter @MLBastian. This story was not subject to the approval of Major League Baseball or its clubs.