Injured Raburn, Giambi nearing rehab games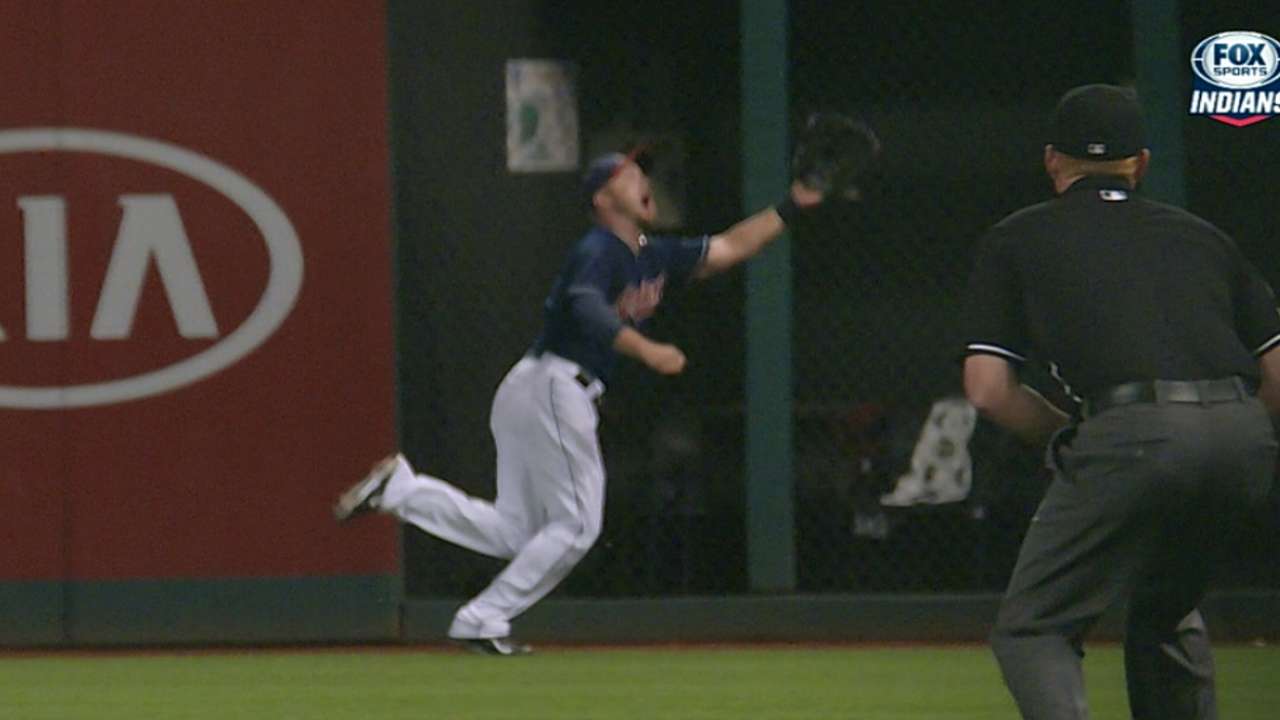 CLEVELAND -- The Indians' bench produced at a high level last season, becoming known in Cleveland as the "Goon Squad." The group has not been the same this year without the same kind of contributions from veterans Ryan Raburn and Jason Giambi.
Raburn has dealt with a right wrist issue for most of the season and was scheduled to begin a Minor League rehab assignment with Triple-A Columbus on Saturday. Giambi has spent the bulk of this year on the disabled list and could begin his own rehab assignment next week. Both Raburn and Giambi could be activated after Sept. 1, when rosters expand.
If the pair was healthy all season, perhaps the Tribe would be in a different position.
"I'm not sure how you know," Indians manager Terry Francona said. "You don't know what a guy's going to hit."
The Indians do know what they have missed from the 33-year-old Raburn, who was placed on the 15-day DL on Tuesday. In 70 games this year, he has hit .191 with three home runs and 21 RBIs, including a .181 average (.550 OPS) against left-handers. In 87 games in 2013, Raburn hit .272 overall with 16 homers, 55 RBIs and a .901 OPS, including a 1.020 OPS off lefties.
Not having that same weapon against left-handed pitchers has hurt Cleveland.
"He was such a force last year," Francona said. "There were plenty of games where he was hitting cleanup and having cleanup numbers. I think he had a .900-something OPS. And, again, you can't put it on one guy -- that's not fair -- but it was such a luxury when you had a bench player doing the damage that he was doing."
Raburn (eligible for activation on Sept. 2) is currently scheduled to play around seven Minor League games, according to Francona.
Giambi, whose latest DL stint began on June 12 due to a left knee issue, has only appeared in 15 games this season, hitting .128 with two homers in 47 at-bats. The 43-year-old designated hitter hit only .183 last season, but he posted a 1.181 OPS in 23 ninth-inning plate appearances and a 1.210 OPS in 17 pinch-hit appearances. He had nine homers and 31 RBIs in 71 games overall.
Giambi could begin his Minor League rehab stint as early as Monday.
"I do know that when he's active," Francona said of Giambi, "I think our team ... has a little bit more stick-your-chest-out a little bit. I think it's because of all the things 'G' stands for and what he believes in."
Jordan Bastian is a reporter for MLB.com. Read his blog, Major League Bastian, and follow him on Twitter @MLBastian. This story was not subject to the approval of Major League Baseball or its clubs.