Ramirez opening eyes at shortstop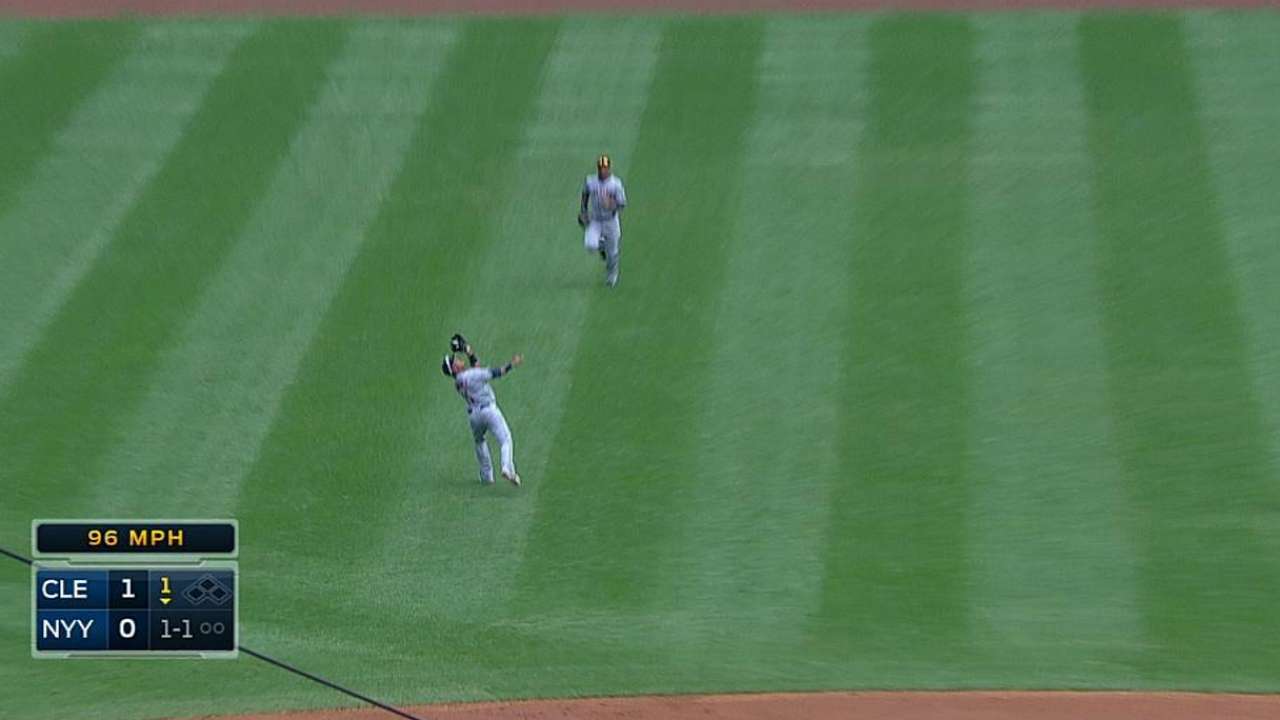 CHICAGO -- After the Indians traded veteran shortstop Asdrubal Cabrera to the Nationals last month, it appeared to clear top prospect Francisco Lindor's path to the Majors. That might still hold true for next season, but Cleveland is currently taking a close look at another young shortstop: Jose Ramirez.
Perceived as second baseman or future utility man, Ramirez was handed the keys to short for the rest of this season, and the youngster has impressed in the field. With his solid defensive showing and offensive contributions, the 21-year-old Ramirez has given the Tribe some things to think about over the winter.
"I don't think we were surprised," Indians manager Terry Francona said of Ramirez's play. "I just think that when people in our industry look at somebody and don't see maybe a big arm, they immediately go, 'Second base.' Well, his range is tremendous and he moves his feet really well and he's got a good clock.
"I guess what I'm saying is, he's done a heck of a job at short. We know he can play second. We've put him at third. But he's a pretty good shortstop. When we traded Cabby, there was a reason. And it wasn't because we didn't like Cabby."
Through 24 appearances at shortstop this season, Ramirez has turned in a negative 1.8 UZR/150, which ranked him 12th among the 21 American League shortstops with at least 200 innings in the field this season. By comparison, Cabrera had a negative 10.4 rating (17th in the AL). According to Fangraphs.com, Ramirez has zero Defensive Runs Saved (ninth in the AL) in 212 1/3 innings, but that is the same as Royals shortstop Alcides Escobar through his 1,163 2/3 innings.
In the Minor Leagues, Ramirez played mostly second base (199 games), but shortstop (74 games) was his secondary position. He also played some third and outfield in the Minors. In his brief stint with Cleveland last season, Ramirez only logged two innings at shortstop.
"I've been really impressed with how he's played over there," said Indians third-base coach Mike Sarbaugh, who is also the team's infield instructor. "The one thing that's impressed me is, not only what he's shown with his range, but he's got very good baseball instincts. He reads balls off the bat very well. He anticipates where the ball is going to be and is very accurate with his throws. He's got a good, quick release. He's definitely opened eyes out there."
Jordan Bastian is a reporter for MLB.com. Read his blog, Major League Bastian, and follow him on Twitter @MLBastian.
Teddy Cahill is a reporter for MLB.com. Follow him on Twitter at @tedcahill.
This story was not subject to the approval of Major League Baseball or its clubs.