Indians to ramp up Salazar's spring regimen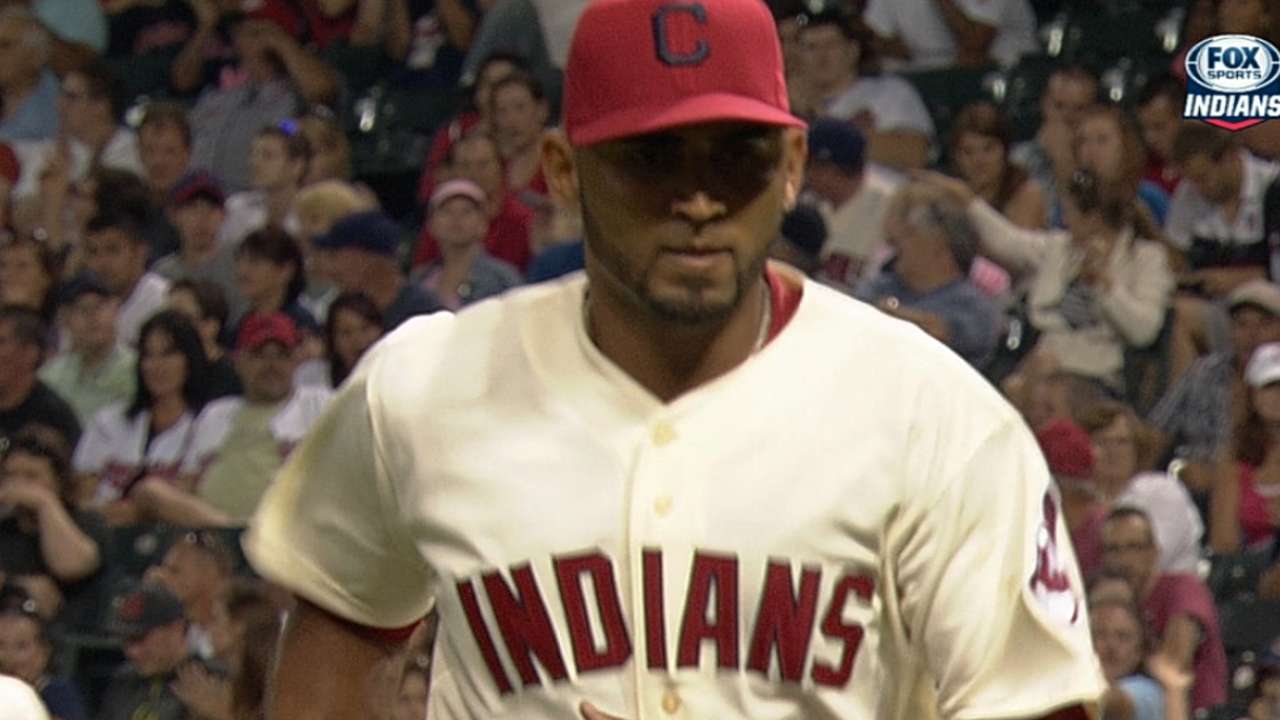 CHICAGO -- The Indians put Danny Salazar on an extremely gradual throwing program during Spring Training and the young right-hander went on to endure a rough April. Pitching coach Mickey Callaway believes that Cleveland has discovered the flaw in the team's approach.
Throughout Salazar's Minor League career, the pitcher has gained steam throughout the season in terms of both velocity and endurance. What Callaway hopes to do in the coming winter and next spring is design a new program that puts Salazar on pace to be firing on all cylinders come Opening Day.
"I'm going to make some trips to the Dominican to go see him [over the offseason]," Callaway said. "We're going to hopefully get him out to Spring Training considerably early to really get him going. Really, it'll just be to get him ready for the season. We'll kind of push it up. We were thinking about a lot of things this past spring, as far as still kind of controlling [his innings].
"It kind of slipped past us that he's never really been ready to win his first game of the season. It's always been, 'OK, go work on developing things.' So, I think we need to make an adjustment to that."
In his first eight starts this season, Salazar went 1-4 with a 5.53 ERA in 40 2/3 innings, in which he registered 61 percent strikes, allowed an .886 opponents' OPS and turned in a 1.62 WHIP. Following a stint at Triple-A, Salazar returned to the Indians on June 22 and has made six starts at the Major League level.
During that more recent stretch, Salazar has gone 3-2 with a 3.27 ERA in 33 innings. Across that sample, the right-hander has thrown 66 percent strikes, limited hitters to a .628 OPS and posted a 1.15 WHIP. Salazar has also sat around 93-96 mph with his fastball, compared to around 92-95 mph earlier this season.
"He's always been a bit of a slow starter," Callaway said. "We've always seen his velocity, like in April, it averages around 92 [mph], and then in September, he averaged 96 last year. So he's always kind of conditioned himself -- kind of the Minor League way when you're coming up -- to ease yourself into the season.
"He's always kind of been in that mindset of building up. It's probably my fault that we probably didn't do a good job of getting him ready for Spring Training, where he had to come out and compete. He didn't know how to do it himself. We just kind of figured he'll be ready, but we didn't ever look at the history of it until after the season started."
Jordan Bastian is a reporter for MLB.com. Read his blog, Major League Bastian, and follow him on Twitter @MLBastian. This story was not subject to the approval of Major League Baseball or its clubs.