After Chisenhall's heroics, Tribe-Royals suspended
Indians leading, 4-2, in 10th inning in game to be completed Sept. 22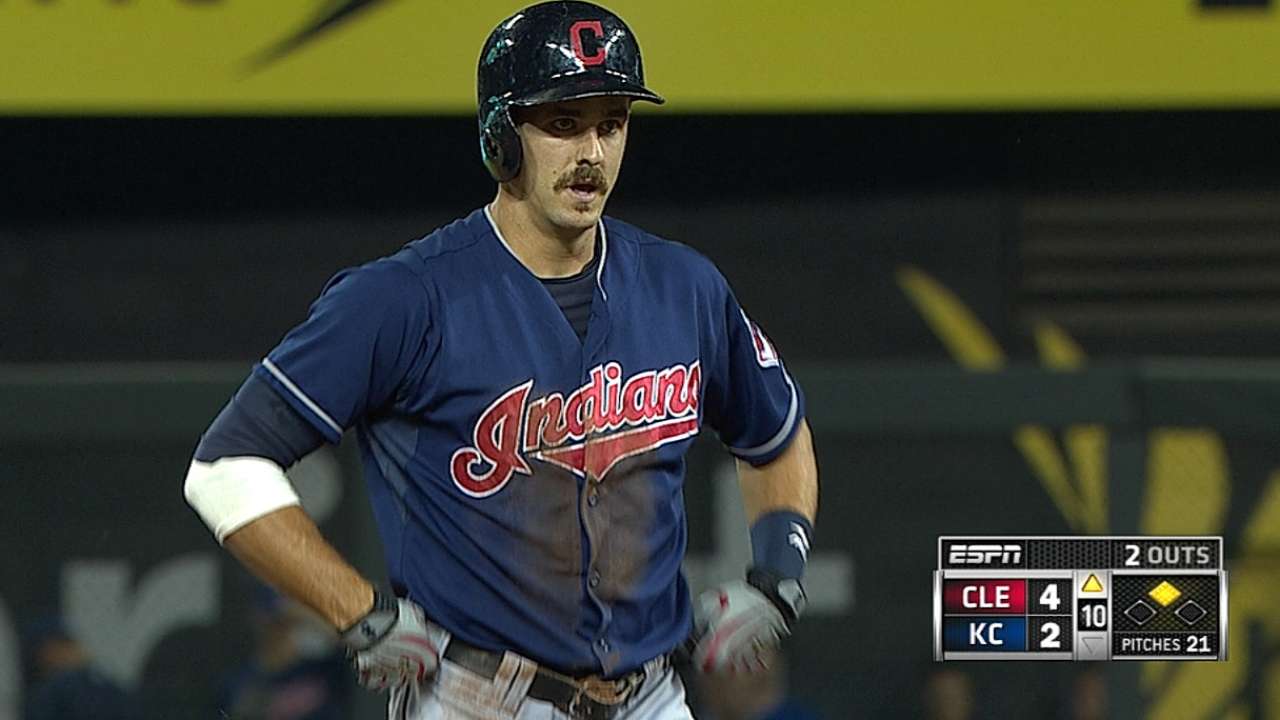 KANSAS CITY -- The Indians' attempt at sweeping the Royals will have to wait, as Sunday night's series finale was suspended due to poor weather conditions in the bottom of the 10th with Cleveland leading, 4-2.
The game will resume on Sept. 22, prior to the start of the Tribe's three-game series with Kansas City in Cleveland.
"It's kind of a weird feeling, the game's not over, but I'd rather have the lead," Indians manager Terry Francona said. "As weird as it is, you put this in your rearview mirror and move on quickly, and then we'll figure it out once the time comes around."
Lonnie Chisenhall ripped a pinch-hit two-run double in the top of the 10th inning off Greg Holland to give the Indians a 4-2 lead in front of a sold-out Kauffman Stadium.
Holland finished the inning, and when the Indians took the field in the bottom of the 10th a gusting, ominous wind accompanied them. Before reliever Kyle Crockett -- who must begin on the mound when play continues on Sept. 22 -- could throw a pitch, the game was delayed at 10:23 p.m. CT.
Shortly after umpires halted play, a heavy rain came down.
Officials in New York deemed the game suspended 58 minutes after the delay was initiated.
"I think the umpires had a game at 1 o'clock [Monday] in St. Louis, and I think they're just trying to make the best decision they could," Francona said. "One school of thought was to wait until 11:45 and maybe play in the rain. We'll do whatever they tell us to do, but you can't control the weather."
Chisenhall's two-bagger came one inning after Tribe closer Cody Allen's streak of consecutive saves ended at 17 games.
The Indians entered the ninth inning leading, 2-1, but leadoff batter Alex Gordon launched a game-tying shot to right off Allen.
Allen recovered, inducing three straight groundouts, bringing on extra innings for the second straight game.
Holland, MLB's saves leader with 40, started the 10th with no trouble. Michael Brantley grounded out and Carlos Santana struck out. But Jason Kipnis kept the inning alive when he reached on an error by first baseman Billy Butler.
Yan Gomes ripped his fourth single of the night, and Francona inserted Chisenhall into Mike Aviles' spot in the order to gain the lefty-righty matchup.
Chisenhall deposited an 0-2 slider off the right-field wall to score Kipnis and Gomes.
Gordon's home run spoiled a superlative effort from Tribe starter T.J. House.
House tossed a career-high seven innings of one-run ball, allowing five hits and zero walks, while striking out five.
"I thought that was his best game," Francona said. "I thought his stuff was sharp."
Within the first three hitters of the game, the Royals led, 1-0. Nori Aoki and Omar Infante smacked singles, then Gordon lofted a sacrifice fly to score Aoki.
That is all House would allow, though, as he set down 18 of the last 21 hitters he faced.
"He started off the game kind of having to pitch out of trouble, got the sac fly and seemed to settle down, and then really kept the ball down. … I thought he was really good," Francona said.
Cleveland countered with a run in the third when Brantley looped his 37th double into left field to score Roberto Perez.
The Indians used a defensive gaffe by Royals starter Danny Duffy in the next inning to take the lead. The lefty attempted to pick off Gomes at first base with his trademark quick-step move. But he threw it past Butler. Gomes advanced to third, and Aviles brought him in on a sacrifice fly, putting his team ahead, 2-1.
"He looked over and thought he had big lead and thought he could catch him by surprise, and he made a bad throw," Royals manager Ned Yost said.
The Indians appeared on ESPN's Sunday Night Baseball for the first time since June 26, 2011, in San Francisco.
Jackson Alexander is an associate reporter for MLB.com. This story was not subject to the approval of Major League Baseball or its clubs.