Kluber, Callaway address ace's mechanical flaws
Tribe pitching coach says righty has been 'collapsing on his back leg'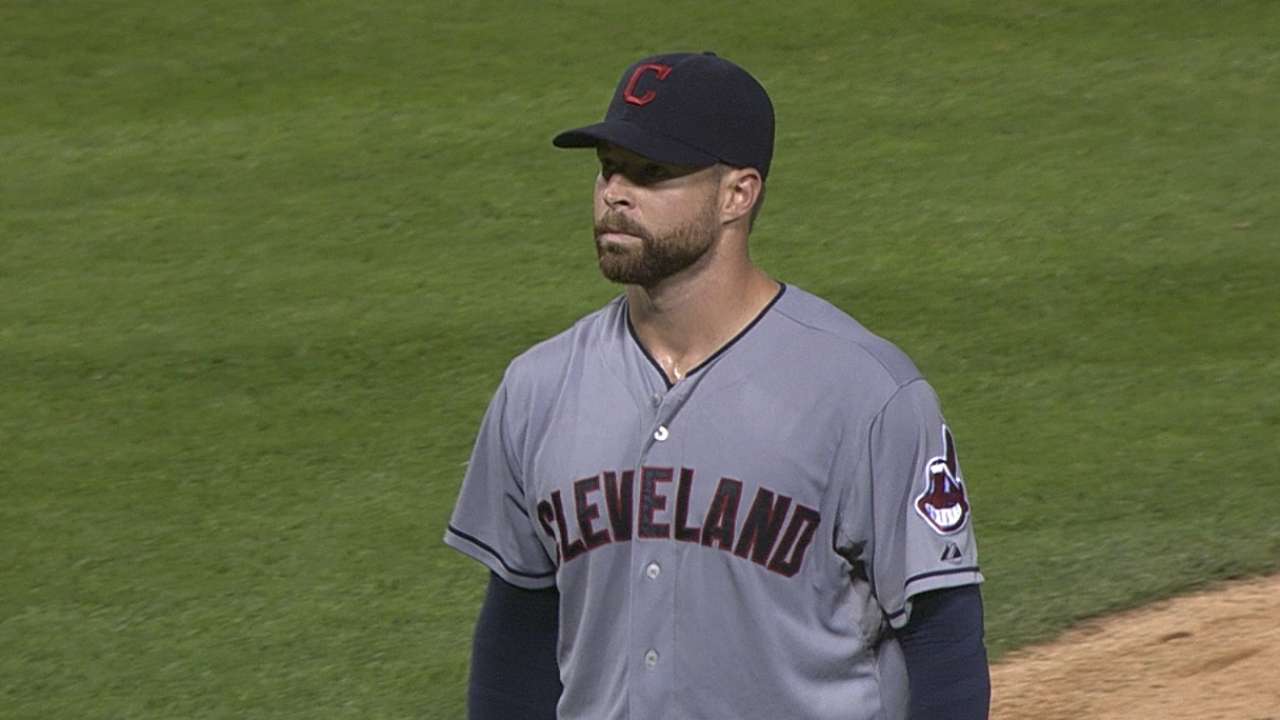 CLEVELAND -- Corey Kluber had been so good through the heart of the summer that a slight drop in production late in August seemed glaring. When the Indians' staff leader could not get through three innings Monday night, red flags officially went up.
Indians pitching coach Mickey Callaway said he and the pitcher went to work Tuesday on tackling some mechanical problems that have come up lately.
"It looks like maybe he's collapsing on his back leg a little bit," Callaway said. "That causes a number of issues. He might be throwing across his body a little bit more. ... He's probably throwing underneath the ball. Lately, his release point has been more towards third base, so out away from his head a little bit more.
"His pitches have been flatter and have been more up in the zone than we're used to seeing. I think, from a mechanical standpoint, that's probably what is going on with him."
During Monday's 12-1 loss to Detroit, Kluber was charged with six runs (two earned) in 2 2/3 innings and was pulled after only 57 pitches. Three earned runs were erased from Kluber's line Tuesday, when an official scoring change gave right fielder Mike Aviles an error for the Miguel Cabrera fly ball that was initially ruled a single in the third.
Over his past three starts combined, Kluber has surrendered 11 runs (eight earned) on 22 hits in 16 innings, during which he has posted 18 strikeouts against eight walks with a 1.096 opponents' OPS. In the previous 10 starts combined, the right-hander gave up 11 runs (10 earned) on 49 hits in 75 2/3 innings, in which he had 83 strikeouts, 11 walks and a .478 opponents' OPS.
Callaway said Kluber has displayed some of the mechanical flaws for a handful of starts, but the righty was managing to pitch well through the issues.
"The tough part with him is we've been kind of seeing that trend, but he was still dealing," Callaway said. "Just because he goes seven innings and gives up three runs and punches out 10 doesn't mean you say anything to a guy yet. So, I guess talking about it today -- after [Monday] night -- was probably good timing."
Kluber is sitting at a career-high 195 1/3 innings, which is a solid spike over the 159 2/3 he logged between the Majors and Minors last season. The right-hander's previous career high was 188 1/3, which came between the Majors and Minors in 2012. Callaway said the increased work load might be contributing to the mechanical issues.
"Yeah, his legs could be tired," Callaway said. "And you don't even know it. He probably feels great, but you don't even realize those things are happening, so you've really got to kind of monitor those things."
Jordan Bastian is a reporter for MLB.com. Read his blog, Major League Bastian, and follow him on Twitter @MLBastian. This story was not subject to the approval of Major League Baseball or its clubs.