Francona not concerned with Allen's recent struggles
Tribe manager doesn't think closer is wearing down from heavy workload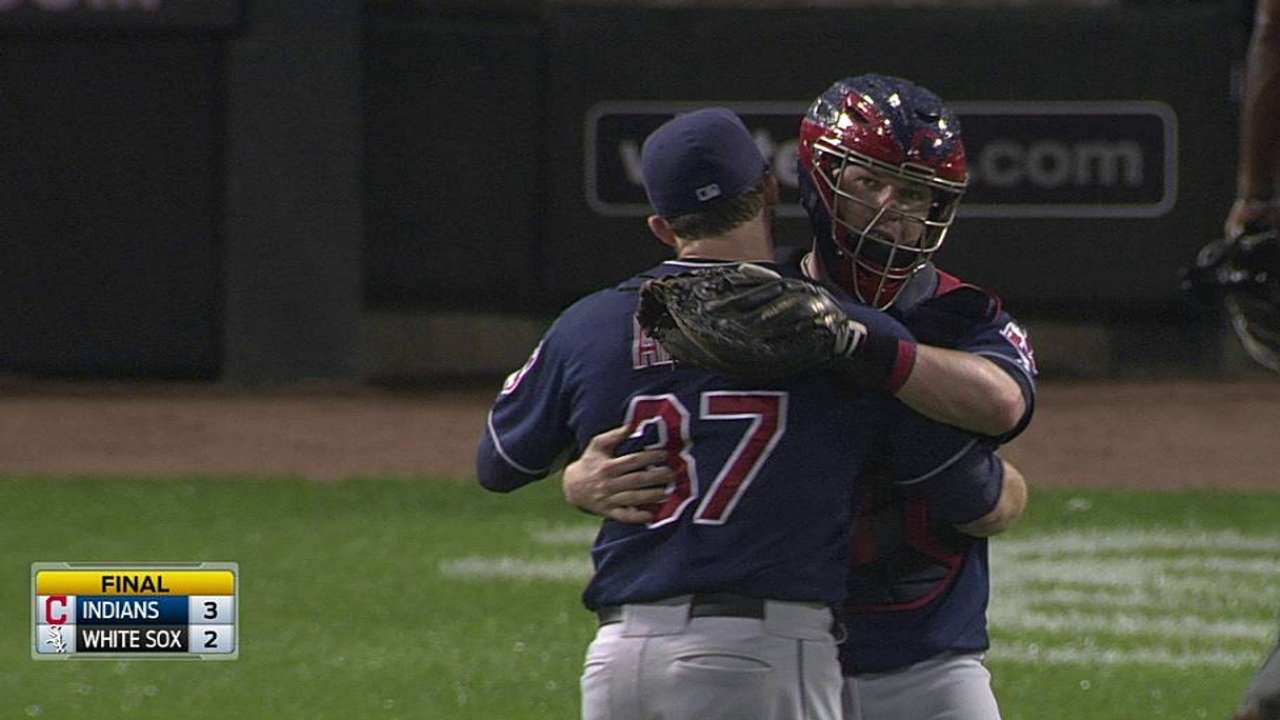 CLEVELAND -- There was nothing that Indians manager Terry Francona saw Tuesday night to indicate that closer Cody Allen might be running on fumes with a few weeks left on the schedule. Allen simply struggled through a rare off night on the mound against Detroit.
"He was firing it [Tuesday] night," Francona said Wednesday. "I understand the workload is a lot and the innings, and the close innings, they're high-leverage innings. But, he works so hard to be able to answer the bell."
In the ninth inning of Cleveland's 4-2 loss to the Tigers, Allen surrendered a three-run home run to J.D. Martinez, marking the right-hander's second blown save in as many appearances. Allen also gave up a game-tying homer to Kansas City's Alex Gordon in the ninth inning of Sunday's suspended game.
Heading into Wednesday's clash with Detroit, Allen ranked first in the American League with 143 appearances over the 2013-14 seasons combined. His 2,212 pitches thrown in those games marked the fourth-highest total in the AL (right behind Tribe setup man Bryan Shaw) and his 130 2/3 innings were the seventh-most in the league.
Through 66 games this season, Allen has a 2.24 ERA with 18 saves, 79 strikeouts and 24 walks in 60 1/3 innings. Against the Tigers, the righty averaged 97.5 mph on his fastball, according to brooksbaseball.net, which compiles PITCHf/x data. Entering Wednesday, Allen's average velocity for the season stood at 96.6 mph, which is up slightly from last season (96.2).
Before the blown save in Kansas City on Sunday, Allen had turned in a 0.86 ERA with 17 straight saves converted and a .153 opponents' average in a stretch of 42 outings.
"It was a tough night for him [Tuesday] night," Francona said. "You're facing the middle of their lineup. Even on some nights when [he's] not commanding, he's still probably good enough. But, with that middle, they can do that to you. I think Cody is just fine. [Tuesday] night hurt, and I'm sure it hurt him, but every night that we can give him the ball, believe me, we will."
Jordan Bastian is a reporter for MLB.com. Read his blog, Major League Bastian, and follow him on Twitter @MLBastian. This story was not subject to the approval of Major League Baseball or its clubs.